Downloadable content is typically a booklet (like this "25 Website Must-Haves" ebook), a checklist, an infographic, or another type of content that can be downloaded from your website that is educational in nature.
Content development is an essential part of your inbound marketing efforts and this includes downloads on your website. The content included in the download may also exist on pages within your website, but a downloaded version has its benefits for the reader as well.
An offer in downloadable PDF format makes it easier for users to:
Find it later to read at their convenience.
Reference it during their ongoing research before a purchase
Print a hard copy
Share it with others involved in the purchase decision
To access the content in downloadable form, visitors usually have to fill out a form that provides their name and email address at a minimum so that the content can be sent to them via email.
Downloadable content is not typically your company brochure or other sales materials. Those should be available for viewing and downloading without requiring an email address.
Why Have Downloadable Content on Your Website?
The primary reason is to turn a visitor into a lead. From these leads, you can then nurture them along into a qualified lead and then a sale.
It's a good idea to offer content that helps people at various stages of the decision-making process. Based on what they download, you can get a better understanding of where they are in the decision-making process and if there are specific products or features that might interest them.

5 Tips for Creating and Adding Downloadable Content to Your Website
Only ask for the information you need. Keep the form as short as possible. Avoid asking for sensitive information that companies or consumers may not want to disclose. When using a tool like HubSpot you can gather more information if/when the visitor comes back and completes another form on the website. Called progressive profiling, this allows you to keep the form short while further qualifying those who show interest in your products or services.
Consider the value of your offer. The more perceived value of an offer has, the more information you may be able to ask for in return. If it's a newsletter subscription, only ask for an email address (and maybe first name, at most).
Reduce anxiety. People are more resistant to give up their information because they don't want SPAM. Add a privacy message, link to your privacy policy, or even create a landing page video that explains how you will use their information and their email will not be shared, sold, or over emailed by your company.
Use actionable language on your form buttons! No one wants to "submit" anything. Instead, try using "Download your free guide," "Start today," or "Sign up for updates."
Deliver your offer ASAP. When advertising a downloadable offer, fulfill the request instantly. Include a link to download the offer on the "thank you" page. Also, send an automated email containing the promised downloadable content (or a link to it).
Don't Miss A Branding Opportunity!
All of your downloadable content should include your branding: company name, logo, website, etc.
As users are downloading and taking your content with them to reference later, you want to make sure that as they are referencing this content they can also reference where the content originated from.
Now, you don't have to go crazy and put your logo all over it, but we do suggest that you make sure to brand each page of your content offer. For example, on an ebook we would add our logo to the cover page, as seen below: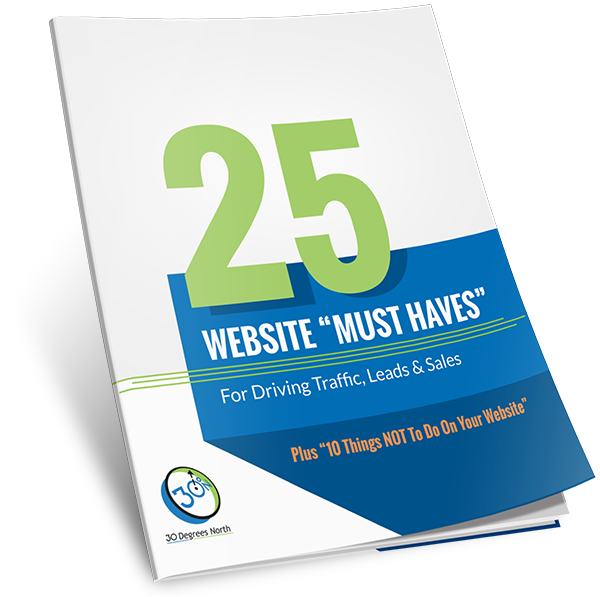 Then, we also included our name in the footer of each page, along with the document name and page number, as seen below:

A HubSpot survey found 90% of their respondents actually preferred downloading a PDF. So be sure to include your companies branding on your hard work!
Need Some Downloadable Content Ideas?
We've mentioned ebooks a few times already, but there are many other ways to create downloadable content. Other forms of downloadable website content include:
Infographics
Checklists
Guides
Kits
Research
Case Studies
Whitepapers
There really isn't a limit on what you can create and offer as a downloadable offer on your website. Just be sure that you are helping your website visitors through each step of their decision-making journey by providing them helpful, relevant information.
For 24 more tips on driving traffic, leads and sales through your website, click below to download our ebook.