Pop-ups can, and do, work when done right. But what's that happy medium? Do they turn visitors off or do people really click on them? And what's this about Google's requirements for pop-ups?
Here are eight do's and don'ts for website pop-ups that you should stick to for more lead generation in 2021:
8 Rules for Using Pop-ups in 2021
---
3 Don'ts for Website Pop-ups
1. Don't Overwhelm Your Visitors
Have you noticed that you can't even get to the content on the site you were trying to view before being bombarded with things that are fully or partially taking over the screen? It's pretty common these days to have some or all of these appear before you can read the main headline on the site:
A "cookies" notice
A GDPR notice or California Consumer Privacy Act notice (new in 2020)
A chat bot or live chat offer
A "signup for our email" pop-up box
A "we'd like to use your location" notice from the browser
That's a lot to deal with and totally impacts your visitors' first impressions. They may or may not stick around after all that, depending on how badly they'd like to see the content you have. (See our blog about how web design impacts whether people will stay on your site.)
Consider these questions as you create pop-ups that your visitors will experience on your website:
Do the pop-ups all need to appear within the first few moments of arriving on the site? In some cases, yes. But other things could either wait a little longer, or may not need to be set to appear on every page.


What is the experience like on a phone? With smaller screen real estate, there is a chance that your visitor really can't see much, even after they close the legal notices. Be sure your legal notices are set so that visitors don't see it on every visit.


Do you really need to know the visitor's location straight away? Sometimes you really do. And sometimes, you're gathering it for use later or for your own data collection. I know, personally, if I don't see a need for you to have my location right away, I'll decline and wait till it's necessary.
✔️ As part of the trust-development process with your website visitors, only ask for what you need, when it's needed.
2. Don't GIVE YOUR VISITORs A GUILT TRIP
Have you ever seen a website pop-up that makes you feel like a bad person for declining? I've seen some really offensive ones like:
Would you like to subscribe to our email to get updates from the veterinarian?
Yes, I love my pets. --or-- No, I don't really care about my pets.
What? Just because I don't want to sign up for whatever they're offering doesn't make me an animal hater. And who wants their visitors to associate these negative feelings with their products or services? Consider choosing text that doesn't give anyone a guilt trip. Here's that same example, but less abrasive:
Would you like to subscribe to our email to receive helpful updates from the veterinarian?
Yes, I love to learn new things about my cute, cuddly pets. --or-- No thanks, my inbox is already full.
Being kind in your pop-up offer could be the difference between a visitor staying or leaving because of how you've made them feel.
3. Don't use mobile Pop-UPS that take over the screen
Mobile search results are critical for everyone nowadays. And Google is playing its part in presenting websites that provide a better experience on small-screens. This is actually something they're really going to be paying even more attention to in 2021, with the announcement of the Core Web Vitals Update. (Learn more in our blog: How to Prepare for Google's Core Web Vitals Update.) That's why you must pay attention to the following if you use pop-ups that appear at the mobile screen size:
The pop-up cannot cover the main content, either immediately after the user navigates to a page from the search results, or while they are looking through the page.
Displaying a standalone pop-up that the user has to dismiss before accessing the main content.
Using a layout where the "above-the-fold" portion of the page (what you see before you have to scroll) appears as though it was a pop up with the actual content lower on the page, forcing you to get past what looks like an ad.
These are called intrusive interstitials by Google. But for most of us, they're just called really irritating. And your website's mobile SEO rankings can drop if you don't follow the guidelines.
Here are pop-up styles that Google advises against: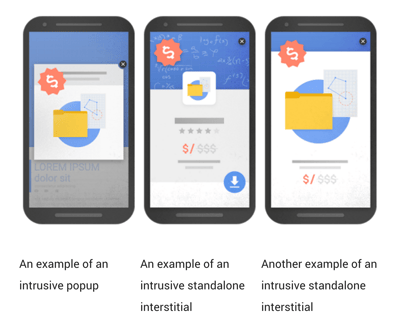 Here is a pop-up format that Google likes for the mobile experience.
Remember, you can still use the larger pop-ups on a desktop view.
5 Ways to Make Your Website Pop-ups Work Better
1. Time Your Pop-UPS SO THEY'RE HELPFUL, NOT ANNOYING
Before you choose to have any type of pop-up appear on your website, you should first consider whether it's relevant to the visitor. There are some legalities that you probably can't avoid. But take a moment to consider the other pop-ups that you may use. If a visitor has been on your website for 5 seconds, they probably don't know if they want your free content offer download yet.
Try presenting a pop-up based on some rules, such as:
Only show on pages that indicate they might have interest in a specific type of content offer.
Show the pop-up after they've either scrolled down the home page, or after being on a page long enough to read some of the content.
Only show the pop-up a couple times, not every time you return to the page.
Definitely don't keep showing the pop-up if they've taken the desired action, ie: they already signed up for your blog emails. This means they don't want to keep getting asked to sign up for the same thing. Using HubSpot's Smart CTAs, you can offer the next logical thing once the first action has been taken.
2. Keep Your Pop-ups Simple
As marketers, our design sense often drives us towards "making things pretty." While this is often important, it's more about offering a pop-up that doesn't take too much time to think about and offers something that's relevant. Check out this example. The first one performed 30% better. It's simple, it offers something you want, and it didn't take more than 2 seconds to read and understand what you were signing up for.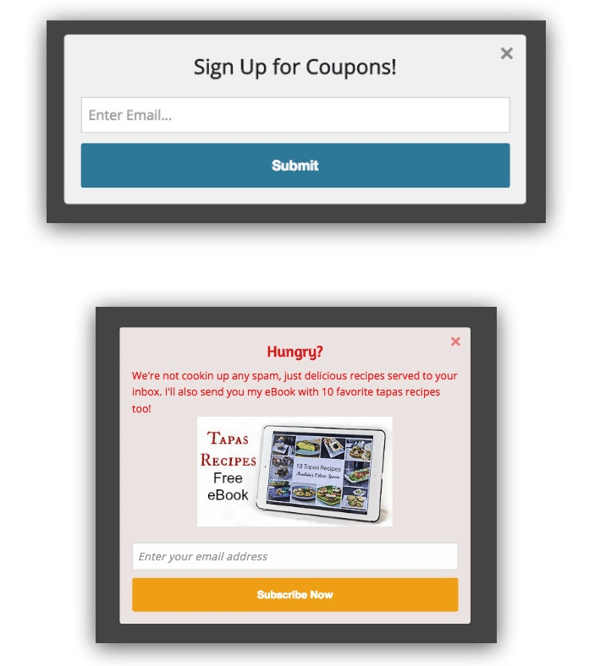 3. Evaluate your Live chat / bot experience
If you use Live Chat or Chat Bots, give the visitor a few moments before the whole things starts expanding and dinging. Most people would like to evaluate the content they've come for and then, in maybe 15-25 seconds after having at least a little time to start reading, they might want to ask a question, or be led to other content.
This is especially important if you're going to use a pop-up to sign up for email notices or coupons early in the visitor's time on the site. It starts to become too overwhelming if you don't spread it out. You might also be interested in reading our blog that talks about how to use live chat and chatbots.
4. Choose pop-up placement carefully
Place the pop-up in the screen that's noticeable, but does not stop the visitor from accessing the content they really want.
Top banner
Appear in the bottom right corner
Center of the screen, but doesn't take over the entire screen without an obvious way to get out of it.
There are services that allow you to create various types of pop-ups. We use HubSpot's Pop Up Forms tool most often because it's easy and built into report with other CTAs and data. It's available in their free version of the product (as of early 2019). It includes a super easy tool that walks you through the steps of creating one.
5. change your pop-ups based on results
It's important to remember that we don't always get things perfect on the first try. If you have a pop-up offer, see how well it's converting to leads. Try a few different ones to see what works best. Maybe try different timings on your chat windows and for the appearance of your offer. If your tool for pop-up management allows for A/B testing, it may be a good idea as long as you have enough traffic to your website to make it a decent sample size.
If you'd like to learn more about how to make pop-ups, live chat and even chat bots work for you to increase leads, let us know and we can set up a time to talk.
Originally posted February 2017. Revised December 2020.