In the race for higher organic search rankings, every company with a web presence is trying to please Google algorithms. In turn, the search engine keeps adjusting these algorithms to please the user.
The visitor's experience on a website has become more and more important to Google. In May of 2020, Google revealed its upcoming Core Web Vitals algorithm update designed to give visitors to any website a more pleasant, and more secure experience than ever before. In an unprecedented move, Google announced it will roll this out in May 2021. But what does it include and what do you need to do to prepare?
The metrics that Google will be using go beyond the standard "mobile-friendliness", "fast page loading time", and "friendly interface." There are some things that a marketer can do and there are other aspects that you may need to have a developer look at more closely. A technical SEO report may be able to give you a better idea of what might need to be changed.
Important note: Core Web Vitals discussed in this article will start affecting rankings once the new Google Algorithm Update rolls out in 2021. The search engine promised to give us a 6-months notice.
What is Page Experience?
Before going any further, let's discuss what page experience means for both SEO experts and the user. According to Google:
Page experience is a set of signals that measure how users perceive the experience of interacting with a web page beyond its pure information value. Optimizing for these factors makes the web more delightful for users across all web browsers and surfaces, and helps sites evolve towards user expectations on mobile.
Page experience metrics include:
Mobile-friendliness — how well the website looks and operates on mobile devices.
Safe browsing — if your website contains malicious (i.e. malware) or deceptive content.
HTTPS — if your website is served over Https, thus showcasing its safety.
Intrusive interstitials (e.g. pop-up ads that take over the screen) — if the content is easily accessible to the user.
Core Web Vitals — LCP, FID, CLS
Let's talk about the newest addition, Core Web Vitals, and what they mean for your visibility in Google's search results.
Short answer: In 2021, page experience will become a signal that Google evaluates when ranking search results.
3 Core Web Vitals You Need to Evaluate
For a while now we've all been paying attention to some of the keys to a good website user experience such as HTTPS, responsive design, etc. The three Core Web Vitals listed in green aren't new... but they are a new addition to the algorithm that is used to rank websites in Google search results. This means that we all need to run some tests and see how our websites are performing in each of these areas.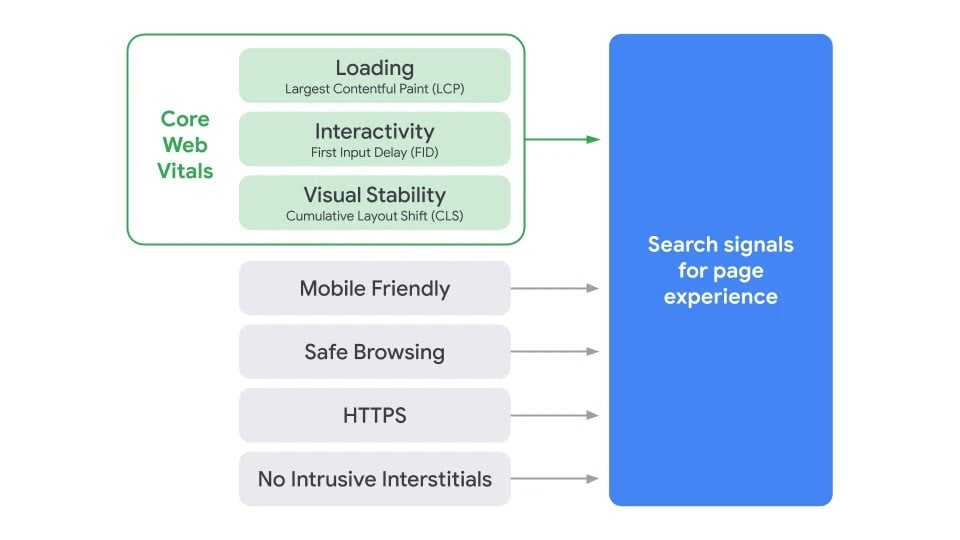 Core Web Vitals Explained
LCP (Largest Contentful Paint) — "Why do I see white space instead of content?!"


LCP

measures how well your webpage is loading. To offer a stellar user experience, the loading time (time from the moment a page starts loading to the moment it is fully loaded) should be faster than 2.5 seconds. Anything between 2.5 and 4 seconds is considered mediocre. A loading time longer than 4 seconds is poor.
FID (First Input Delay) — "I just clicked that. Why didn't anything change?!"
FID measures the interactivity of your webpage (the time it takes for the website to respond to such users' actions as clicking a link, tapping a button, etc.). To rank high, your website's FID should be faster than 100 milliseconds. Anything between 100 and 300 milliseconds is considered mediocre. An FID longer than 300 milliseconds is poor.
CLS (Cumulative Layout Shift) — "I was about to click that. Why did it move?!"
CLS measures the visual stability of your website (how often visible elements on the website change their positions, forcing the user search for the lost place in the text or the button they were trying to tap). To rank high, your CLS should be less than 0.1. Anything between 0.1 and 0.25 is considered mediocre. A CLS higher than 0.25 is poor.
The takeaway: to rank higher on Google search next year, you have to improve the page loading time, tweak the responsiveness of your website, and keep your page layout as stable as possible. If your CWVs fall below the mentioned figures, you may have trouble achieving the desired rankings.
Measuring Core Web Vitals
Google has handed out a variety of tools to measure these vitals so SEO experts know what needs improvement.
Search Console — A Core Web Vitals Report is now part of the tools offered in Google Search Console.
PageSpeed Insights — Available through Google Search Console or by direct URL input, this tool diagnoses speed issues on your webpages. Remember they will be using a slower phone speed to do their analysis. They don't assume 5G or even 4G. They'll often test with a 3G speed.
Lighthouse and Chrome DevTools — These tools were updated to show CLS and FID metrics and provide insight into improving them. It also measures TNT (Total Blocking Time) of the page to help you improve FID.
Chrome UX Report — Updated with a new CWV landing page, the Chrome UX Report shows field versions of each metric by measuring real user experience on millions of websites.
Web Vitals Extension — This new Chrome plugin can help you study and analyze the CWVs on both your website and your competition's websites.
11 Ways to Improve Your Website's Core Web Vitals
If you are focusing on high-quality SEO efforts, your current CWVs are likely to be in great shape. However, when it comes to organic search rankings, there is always room for improvement.
Measure your website loading speed continuously and cut it down whenever possible.
Reduce 400 errors and optimize 301 redirects.
Check how your competition's CWVs stack up against your performance.
Rethink your website's design, use of colors, image sizes, and white spaces.
Reduce JavaScript in the head of your website to decrease loading time.
Remove useless CSS and JS.
Load thumbnail previews of videos instead of full videos.
Work on images without dimensions (include width and height attributes).
Adjust dynamically injected content.
Reduce the number of resources per page (keep it under 50).
Test the website regularly to note CWVs improvements and downsides of your actions.
It's worth noting that just like any SEO effort, Core Web Vitals improvement is an ongoing process.
As Google tweaks its algorithms and users change their preferences, your indicators may change as well. That's why you'll need a plan for continuously watching the metrics and making adjustments.
Staying On Top of Page Experience
There is no denying that page experience is gaining momentum out there on the world wide web. Even though the related Core Web Vitals update to Google's algorithms isn't due out until next year, it's highly important to start tweaking your CWVs today.
To meet the update fully armed, you should be improving page loading time, responsiveness, and visual stability regularly.
If you'd like to learn more about Core Web Vitals and what can be done to keep them in check, please don't hesitate to contact us today for a free technical SEO audit. This is an unbiased, free, assessment of your website's technical SEO that could be affecting your organic search rankings.