Coming off of a year like 2020, you may be a little unsure about what to include in your 2021 marketing budget. Have you been able to adapt to virtual sales and the marketing that supports it? What else can you do to boost leads and sales in a world where conferences and trade shows are most likely delayed at least another year?
McKinsey ran a study in 2020 that shows B2B companies are looking for more digital self-service tools that help them do their research and make purchases without a sales rep.
This means every digital experience someone has is critical. Every interaction online reflects your company's overall presence and personality – now more than ever before.
Top 6 Things To Include In Your 2021 Marketing Budget
Here is our list of recommendations to help you get back on track and generate revenue growth in 2021. Plus, find out, in dollars, what you should consider budgeting for each item.
1 - Your Website (Because It's Your #1 Sales Tool)
The same McKinsey study shows that B2B customers are shifting to a digital experience as their preference over traditional interactions. Maybe because it's quicker, perhaps because they feel safer... but whatever the reasons, you need to pay extra attention to your website and how well it generates new leads and supports your current customers.
Quite literally, your website has never played a more important role in your business than it does right now.
Be sure you have time and budget planned in 2021 for:
content Development
Maybe you've been planning to add blogs, video content, or other lead magnets that will not only attract visitors to your website but help them convert into a lead well before they're ready to make a purchase.
Content that assists with selling - With more of your sales team at home or in the office (versus live, face-to-face meetings), use this opportunity to pick their brains about the most common objections and questions they get. This will drive the content for prospects and even existing customers looking to add products or services from your company.
Content that improves existing customers' experiences - Talk to your customer service team about the questions they get so you can create a knowledge base. As we learned already, customers are looking for a more self-service digital experience. Let them search for the answer they need in a knowledge base. And make it easy for them to submit a ticket or support question.
Once you have an idea of what to write about, create a plan for getting it onto your company website. A few different formats would be helpful - blogs and videos are good places to start.
Up-to-Date Web Design
Your business' website is the digital equivalent of inviting guests into your office or storefront. It has to represent you in the way you want the world to see you.
Even if you just built your website in 2020, you can't set it and forget it. You have to keep coming back and making updates to show your visitors and Google that you're an expert in what you do, offering the latest information.
As a B2B company, your website may be a prospect's ONLY interaction with your brand before they're interested in talking to the sales team.
If you have had the same website for more than three years, you need to seriously consider adding a redesign to your budget for this year. Not only is the design probably in need of an update, but the technology it was built on may also need some refreshing.


Use data to see what people like on your website and determine whether those pages are converting visitors into leads. For example, this page started as a simple blog that has become more popular. We pay a lot of attention to it because it's obviously a hot topic for marketers and business owners. We knew that this page was an important area to focus on and build upon based on our data.
Technical SEO
Google recently made an unusual announcement. They told us how they're going to change website ranking in 2021. They're literally giving us the recipe to make sure your website is a superstar once they flip the switch. Many of the things that will need to be addressed fall under the "technical SEO" category. (Learn more in our blog about the Google Core Vitals Update.)
In addition to the Core Web Vitals, there are other technical SEO aspects you should pay attention to in order to increase your website's visibility in organic search results. This includes things such as snippets, page titles, proper handling of redirects, etc. There is software that will identify these issues. But you have to get someone to fix them. As marketers, this can be a little frustrating because you may not know how to make the changes. However, you should not ignore it. Start with a technical SEO audit of your website to see how things are going and start creating a plan for who will make the updates that will keep your site healthy.
2 - Live Chat AND Chat Bots
The #1 objection we hear from companies when we talk about live chat is that they don't have anyone around to handle the conversations. You can no longer afford NOT to have chat on your business website. The McKinsey study shows that B2B customers want more self-service digital tools, with chat being the #1 preferred channel for doing research.
Having sales people available to chat with website visitors creates a prime opportunity to answer questions and help prospects take the next steps – right now. For current customers, an online customer service rep can give an answer quicker than through email or waiting on hold (translating into a better customer experience).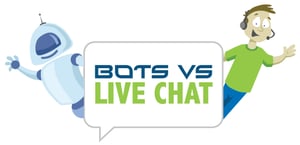 Live chat is almost always combined with bot technology. A bot can offer a variety of options for the visitor to choose from including a live chat with a sales person or a customer service rep. If they're not ready to talk to a person, you can also offer information related to commonly asked questions. This is creating that "self service" experience.
Don't worry about needing a live agent available 24/7. The chat features can be turned off during hours you're closed, while leaving the bot in place to help with other things and to collect names and contact information for those who were looking to talk to a live sales person or customer service rep.
Bots and chat will take a little bit of operational setup to ensure you have a plan for who will handle the live requests and what you can and can't say. However, chat is becoming really important, and now is the time to get started. Don't fear it. Give it a try as one more touchpoint that you can offer to your website visitors.
Learn more about chat bots and live chat in our blog: What is Artificial Intelligence and How Can it Improve Sales and Customer Service?
3 - Videos Are the Next Best Thing to Live Interaction
It's probably not a surprise that you need to have videos on your website. But have you also considered using one-to-one videos for sales? With your sales team feeling very hand-tied this year, there is a massive opportunity for videos of all kinds to have an impact on your marketing and sales processes.
They don't have to be highly produced videos. In fact, you can shoot many of them from your desk.
Here are three ideas for creating your company videos:
Answers to your most common sales questions. Get someone in front of the camera and let them answer the question! Now you're going to have a library of content that helps address the commonly asked questions that can help people before they reach out to your team. This increases their trust in your company and your products or services.


Cost explanation videos. Openly and honestly talk about pricing and common objections to your price. This will be so helpful to potential customers when narrowing down their options.


Sales videos. With some free (or nearly free) screen capture/webcam software, your salespeople can create videos that give that feeling of personal interaction with leads to help move them through the decision making process.
4 - A Personalized Experience that Leads to Better Reviews
Your customers are your most valuable asset. But your potential customers are also really important. It would be ideal to have an experience with your company that's customized to the individual. Netflix is the master of this, creating suggested playlists that are usually pretty close to things I'd like to watch. While you're not going to be able to get quite that sophisticated right out of the gate, there are some things you can start with:
Personalized emails
Hopefully, you've gathered some information about your visitor that will allow you to send emails that include their name and are based on their interests. Try not to "sell" in every email. Send them more information to help them through the buyer's journey so that the obvious choice is your company.
Personalize the website experience
If you know who is coming to your website, you can create an experience based on the data you have stored about the individual.
Present a different looking webpage for a customer versus a prospect. Allow visitors to self-identify if they're new, and then their experience will match their category.

Use their name on the home page when possible or in other areas of the site's content.

Only show them content offers for things they have not downloaded yet.

Present a chat/bot window that's meant for a customer vs. a lead, if you know who they are. (NOTE: Be sure to change leads into customers in the CRM so that you're sure they get the right experience.)

Great experiences turn into positive reviews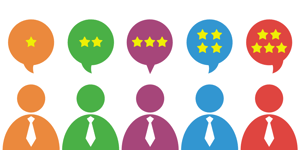 That same McKinsey study shows that companies offering an exceptional digital experience are twice as likely to be chosen as a primary supplier of products or services. Make your customers love their experience on your website so much that they want to tell their colleagues about you!
We recommend you also run a net promoter survey to be sure you're aware of how likely customers are to recommend you to others. For those who are fans of your company, encourage them to give you reviews on Capterra, G2, Google, or whichever platforms are commonly used in your industry.
Don't be shy. Be sure you ask for reviews.
5 - Online Live Events
If you have content that would be good to share with others, it might be a good time to create a webinar or online conference. It creates the opportunity to demonstrate your understanding of a subject. This should NOT be a sales pitch or demo. (You can offer that at the end, but 99.8% of your webinar or conference content should focus on the educational topic.)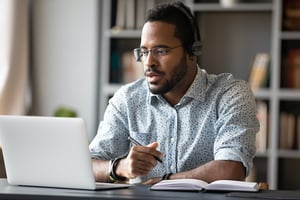 Certainly, your prospects and current customers would be a good starting point for participation, but you can also run ads to gain more visibility amongst a specific target audience.
For webinars, try to stick to 45 minutes up to 1 hour, max. And if it's a conference with several speakers, half-days are easier to hang with when in web format compared to live formats. Be sure you have tested out all your technology well before you give the actual event.
And record everything that's done live so you can make it available to both those who signed up beforehand and those who show an interest in the content after the event is over. Gate the content with a form and then promote it throughout your website on pages related to the subject. This can build up a substantial library of content that prospects and customers will use. And you can use it to sell (or upsell).
6 - Local Listings
Local SEO is becoming increasingly important. Not just for local shops where customers go, but also for B2B companies. What's the big deal if you don't have people coming to your office?
It's pretty common to allow your local SEO to slip through the cracks if you focus on B2B sales or don't have a storefront. However, you are doing your business a disservice if you aren't optimizing locally.
If you have any local service area, this is critical. For example, an office furniture installer might have a region where they provide service and it would be logical for people to search for companies in a certain city or region. Your local listings can be presented in those results.
If you don't see customers in your office it's still a good idea to have your information correct for deliveries, prospective employees who may need to get to your office, etc.
Local listings often tie your reviews together which can be helpful for potential customers to see.
And, the more presence you have with Google, Bing (results presented in Safari), and Apple Maps the better, for every business. You're more likely to show up in search results with accurate information.
Thankfully, optimizing your local SEO doesn't have to take a lot of time or money.
3 Important Local Listing Tasks for B2B Companies:
Google My Business Listing - If your business has been around for a while, Google will likely try to create a Google My Business listing for you. You need to take advantage of this FREE service. Claim your business listing (if it's already listed), ensure that all of your information is correct and accurate, and lastly (and possibly the most important for B2B companies) complete your business category. The business category describes your product or service.
Business Listings and Directories - Initially, you should focus on Google and Bing. Then, move on to Yahoo, Yelp, Apple, and even social media. Add pictures and as much information as possible. When claiming these listings, you need to make sure that the listings are complete with accurate, up-to-date information and are consistent across all listings. Online directories have a HUGE presence in search results. Take Capterra; for example, they pop-up almost every time I search for software companies online - in both paid and organic search results. They are taking up quite a bit of real estate on those results pages.
Customer Reviews - Search engines value reviews. Not just reviews on their platforms, but also third-party reviews, which is why it is essential to set up those business listings I mentioned in the last bullet point. Reviews can have a big advantage when it comes to improving your search engine rankings. As I mentioned earlier, encourage your clients to leave reviews, and on several different platforms.
What Should You Budget for Marketing Activities?
While there are a variety of price ranges out there, you have to put something down in your budget, or at least know what is reasonable to expect.
Remember, these are ranges and you are likely going to need to do a little more research to put numbers for your company into your budget.
Website Investments for 2021
Total website revamp using HubSpot CMS: Starting at $25,000 plus CMS/hosting of $300/mo
This is more than just hiring someone to make a pretty website on something like WordPress. The website we're recommending involves hiring someone who will create a lead generation and customer support system that uses your target markets' pain points as the strategy behind the content and overall experience. The HubSpot CMS and CRM are critical components of success. The HubSpot CMS can also handle a personalized website experience and email marketing program.
Website content
If you're primarily looking at content creation to add to your existing website but don't have a team in house to write it, you should plan on about $750 - $1,000 per page of 1000 or words, including the research needed to write the piece. Of course, this depends on how complex your content is. Longer pieces such as 10x pillar pages and eBooks will require more writing, so plan to start at $3000 for each of the larger pieces.
Technical SEO
Budget for technical SEO audit: $3,000 - $10,000 one time to identify the issues and fix them. The older the website, the bigger the budget should be because of how things change over time.

Ongoing SEO program: Maintaining your technical SEO should be part of a bigger SEO program or inbound marketing program. These typically start at $5,000 per month and go up depending on what services you need.

Live Chat/Bot Technology & Setup
You should have a solid plan for setting it up and making it work correctly on the website. What will the flow be? Who will receive the chats and during which hours? If you need help with the setup, plan on a few thousand dollars – more if you have plans to use for sales and customer service.
The software is another budget line item. HubSpot includes a well-designed chat tool that comes with Service Hub, the CMS, and/or with Marketing Hub. Depending on the features you need, this starts as low as $50 per month and goes up to about $300 per month, but includes many other features other than just chat and bots.
Another well-known chat/bot tool is Drift which is priced at about the same price point, but doesn't include the other marketing, sales or customer service features included with the HubSpot chat tools.
Net promoter score collection
HubSpot's Service Hub, if purchased for the bot technology or other features, will also enable you to run the net promoter survey. This is necessary to help you grow the number of reviews from people who are happy with your company. It's not too difficult to setup the survey and get it sent out to the database of customers.
What does it cost to produce videos?
If you're going the self-produced route you'll need some equipment and video editing software.
There are hybrid options where you can shoot your video and someone else will edit and produce the final versions.
Or you can give it all to a video production team who will help you shoot, edit and create the final versions of the videos for various places where the video will be displayed.
Video production cost expectations
If you want your own equipment and editing software run by someone in house: $3,000 - $10,000 depending on which items you need to purchase and how complex you want your setup.


Editing and producing final versions for your website and for YouTube is often charged out at a rate per finished second or per finished minute. Since the shooting is already done, finishing a 90-second video can range from $2,500 to $5,000 depending on how well you give the editor direction on the final piece.


If you'd like to have someone shoot and produce your videos, a ninety-second finished video can range from $4,500 - $9,000 or more each. This varies depending on whether it's a shoot on-site or in their studio, do you need the storyboards created or do you have a vision for what you'd like, etc? The more direction you can give the video studio to work with, typically the less expensive the final video will be.

What to budget for live events
Other than your time to prepare the content, the primary thing is to have your webinar technology well-defined and tested beforehand as well as a way for people to sign up and get the information they need. This makes them a lead so you want it to go into your CRM.
We would recommend HubSpot Marketing Pro with the Zoom webinar technology. If you're using the HubSpot tool for other things, that is already included in the price point. View more information about the pricing for these items:
What to budget for local listings
You can do a lot of these things for free by going to each site and creating your listing. But that can be a little tedious. There is software out there that will help you find other listings to be in and will help you identify which ones have good data and which ones need to be updated. Some will also submit your information to the directory. This can range from $100 - $500+ per year, depending on the service that you choose.
Should you plan to use a marketing agency?
Even if you have marketers in house, accomplishing all of your objectives so that you can produce the leads you need may not be possible without help. Marketing agencies usually offer a monthly amount that will cover many or all of the things listed above. Or you can do single projects that then lead to updates in the future . There are a lot of things that need to be paid attention to on a monthly basis including:
Website design

Website development

Inbound marketing activities including workflows, content development, lead magnet creation, calls-to-action, A/B testing, etc.

Reporting on progress

Search engine optimization including technical SEO

Assistance with promoting live events and the content that is available afterwards.

If you're considering how to get it all done, whether internally, externally or as a combination, you might be interested in reading our blog: Do I Really Need a Marketing Agency?
Depending on the speed at which you need to get things done, you should plan between $6,000 and $12,000 per month with an assortment of activities included in that. One of the benefits of this is access to marketers, designers, developers and other skills that you may not have in house. You can move those tasks to the agency while staying on top of marketing and lead generation tasks that you want to keep in house.
In most cases you need to also plan for the software fees for the tools you'll be using.
Getting all the pieces together for a marketing budget is never easy. Make sure all of your activities are based on generating leads, supporting customers and meeting your goals. Have any questions? Schedule a free consultation with our team.