Whatever you had planned for your 2020 marketing budget, odds are good you're re-evaluating all of it. What's really the most important marketing activities for your company right now? And, your sales team is probably looking to you for answers on how to bring in leads in the year of "cancelled events" including everything from national trade shows to local networking sessions.
Top 5 Things for Your Marketing Budget in Post-COVID 2020
Here is our revised recommendations for what to include in your 2020 marketing budget based on the new world order that we seem to be getting used to. Some of these haven't changed too much, but some of them are new.
1 - Your Website
Your website has never played a more important role in your business than it does right now.
Be sure you have time and budget planned in 2020 for:
Updated messaging - Eventually you will lose the red alert bar on the website and get back to selling. But it's worth a walk through of the website to see if anything needs to be changed. Think about questions your current or prospective customers might have these days and address them. If the way you deliver your products or services has changed, update the website to reflect that. And even if nothing has changed, you can talk about that. The overall feeling that you have touched your website since COVID happened shows your visitors (and Google) that your website is an up-to-date, reliable resource.


Web content development - Maybe you've been planning to add blogs, video content or other valuable information for website visitors for a while now. Don't wait on this one any longer! Plus you may have the luxury of accessing the sales team easier to find out more about common questions, objections and things that you can help them with in the sales process by creating new content. Addressing the actual challenges your customers are trying to solve will help move them through the decision-making process.

The sooner this content is on the web, the sooner you can boost visibility in organic search results which can turn into more leads.


New web design - Having great content is important, but the overall design of your website says a lot about the company's brand, and your interest in staying on top of business trends. If you have the same website for more than 3 years, you need to seriously consider adding a redesign to your budget for this year. Not only is the design probably in need of an update, the technology it's built on may also need refreshing.


Technical SEO - It's important to know that over time things change with web server technology, with Google rules, and with the content management system itself that could be causing your site to be slower, or missing important things that Google looks for when ranking websites in search results. This is the stuff that visitors, and honestly many people in the marketing and sales departments, may not even know is happening. But it's still important and shouldn't be ignored if you're aiming to grow traffic being sent to your website by Google.

You'll most likely need to give this part of web optimization task to your web developer. If you don't have one, there are services that can be used to get it done.


2 - Live Chat/Chat Bots
The #1 objection we hear from companies when we talk about adding a chat feature on their website is that they don't have anyone around to handle the conversations. And just like that... everything has changed. With more sales people working from home, or in the office versus going out on calls, you probably have more hands on deck to make this happen. And you won't regret it.
Website visitors who use chat already have some interest in your company. If they're a customer needing assistance, you can easily have them handed off to a customer service team member. But for sales inquiries, you have a prime opportunity to help them answer questions and take the next steps – right now.
Chat technology today is combined with bot technology so that your visitors are sent to the right team member. And... research shows that up to 80% of website visitors say they prefer a chat interaction because they can get an answer right away. Looking for more leads? Let them come to you through a chat conversation!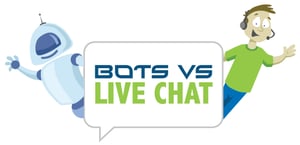 The technology also allows you to turn chat off when you don't have the team to staff it. Don't fear it, give it a try as one more touch point that you can offer.
Learn more about chat bots and live chat in our blog: What is Artificial Intelligence and How Can it Improve Sales and Customer Service?
Let Chat Conversations Guide Your Website Content Plan
Do you have enough website content about those things? Maybe you can create some video content to help support the most popular content? Start out by identifying your most popular web pages and creating a plan for how you can offer answers to common questions related to that page's topic. You can set up a different bot for other high traffic pages so that the experience is very specific to what the visitor is looking at. And always offer a way to get to a live person when chat is on.
Maybe it's a good time to talk about video...
3 - Videos Are the Next Best Thing to Live Interaction
It's probably not a surprise that you need to have video on your website. But have you also considered using one-to-one videos for sales? With your sales team feeling very hand-tied this year, there is a huge opportunity for videos of all kinds to have an impact on your marketing and sales processes.
They don't have to be highly produced videos. In fact, you can shoot many of them from your desk.
Here are THree ideas for creating your company videos:
Answers to some of the most common sales questions. Get someone in front of the camera and let them answer the question! Now you're going to have a library of content that helps address the commonly asked questions that can help people before they reach out to your team. This increases their trust in your company and your products and/or services.


Cost explanation videos. Openly and honestly talk about pricing and common objections to your price. This will be so helpful to potential customers when narrowing down their options.


Sales videos. With some free (or nearly free) software and a web cam, your sales people can create videos that give that feeling of a personal interaction with leads, to help move them through the decision making process.
Video Hosting Services
The next common question we get is, "What is the best way to handle the video placement on the website?"
Everyone is familiar with YouTube. However, when you embed videos into your website from YouTube you're losing some of the SEO value and attributing that content to YouTube. (Also, it doesn't look as good when it's embedded from YouTube.)
That doesn't mean you should dismiss YouTube! You'll need to get your videos out there AND a version on your website using a video tool like Wistia or VidYard that gives you more control over how it looks and what Google can see as content on your website.
Video hosting comes with a price tag but it's worth the money when you get:
Customization of the player to match your brand
Better SEO value because the video's transcript can be a part of your website's code (not YouTube's)
Calls to action that look good and can even integrate with other software like Hubspot.
Reporting that shows you more than how many views you've had. Dig deeper to see what visitors really like.
If you don't have your own video player for your company videos let us know. We can take a look at your needs and make a recommendation that best suits your goals.
4 - Online Reputation Management for Better Reviews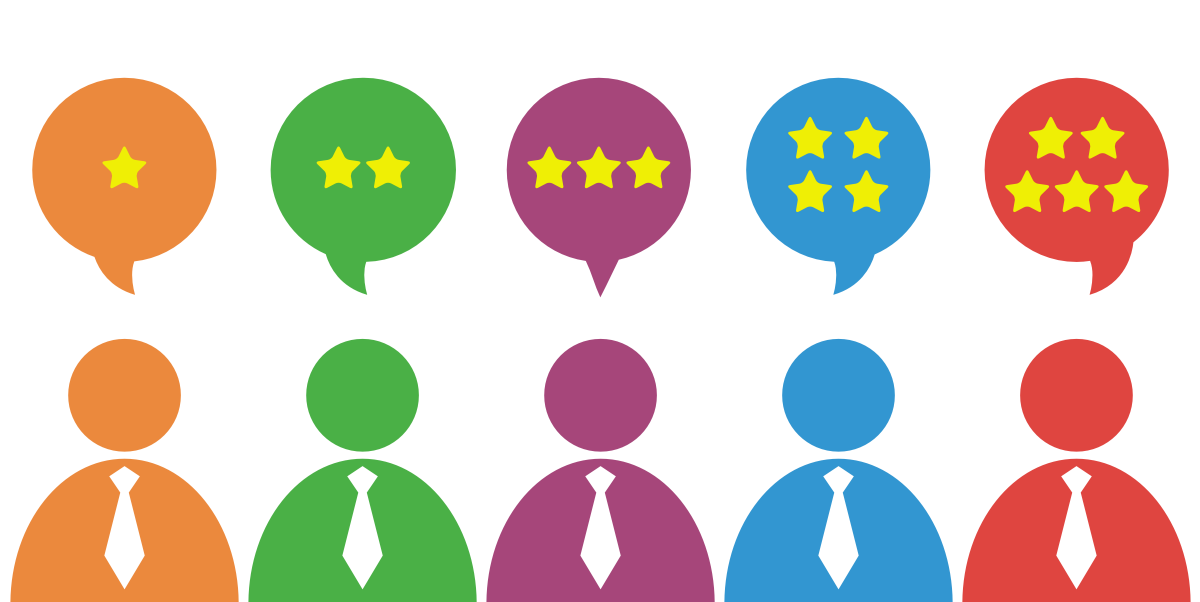 With reviews holding as much weight as a personal referral these days you need to be constantly aware of what's out there. Reviews show up everywhere in search results – no matter which search engine you use. And people are more likely to trust recent reviews over those that were given several months ago or older. That's why you need a plan to actively generate more 4 and 5-star reviews on third party websites like Google, Facebook, Yelp and others. You can even minimize the appearance of a less-than-excellent reviews for public consumption using review collection software.
If you don't have a way to monitor, generate and respond to your reviews all in one place, there's software for that. In fact, there is a lot of software out there for that! We can help recommend one for you, depending on the type of business you have.
5 - Google PPC Ads
It turns out that pay per click ads are pretty cheap right now for a lot of industries. Some advertisers pulled their ads because it was for something that's being restricted, others pulled back on their PPC ad budgets, and other companies are simply closing their doors. The combination of all these factors leads to less competition for the ad slots at the top of a Google search result.
Combine the reduced demand for ad space with the increased number of people using the web to find answers and make purchases, Google ads could be a good investment for now.
Monitor what's happening in your industry, but you might find that you're getting more leads, and valid leads, from Google ads at a lower cost per lead. This won't be true for everyone. Take telehealth companies... their ads got very expensive very quickly because the demand and the reimbursement for telehealth medical visits changed in the course of a few short weeks. But for other products and services that are less sensitive to coronavirus-related activities you could get a nice bump in leads without it costing as much as it would have this time last year.
Marketing Budget Items You Might Hold Off On for 2020
Things we had suggested previously that we're backing off of for now:
Doing your own photo shoot. It may be hard to get a photographer and photo subjects to be in the same room a the same time without a mask on. Unless that's the look you're going for, you might use what you have or stock photos that aren't used by everyone else for now.


Relying heavily on email marketing. There are so many companies sending so many emails right now with specials and other COVID-related content that your head is probably swimming. Email is not dead, but for now you might want to think of other ways to reach out. If you send out emails, avoid really long "newsletter" style emails for now. Stay focused on one message per email that you know that person is interested in. Include a video in it if you want to get even more email reads.


Creating customer testimonial videos. Testimonial style videos are awesome and important. But for now it could be hard to get a videographer and a customer in the same room to do a shoot. Come back to these when things have settled down, unless your customers can shoot it without your help. Then, carry on!
Marketing and Sales Working Together for the Win in 2020
Because of this unique time in history you have an opportunity for the sales and marketing teams to work closer with one another. After all, you're on the same team! And just like playing a team sport, you have to talk with one another to win the game. Try to get marketing and sales to spend some time each week talking on your favorite web meeting app to go over what leads are hot and how they got them. Talk about what would be most helpful for sales on the website. And always keep your customers at the center of that discussion. What would be most helpful for them right now?
If you have some software in place to track this (ie: HubSpot) make sure you've got your dashboards set up so that you can really see and report on where you're having success and what you might want to table for now.