You may have come across the term "landing page" while learning about digital marketing. But honestly the term is used very loosely. So what exactly is a landing page, sometimes referred to as a lead capture page? How do you use them in your digital marketing and advertising?
Have no fear - we are here to help! Once you understand what landing pages are and the purpose for them, you'll be able to make a plan to incorporate them into your own inbound marketing efforts.
The implementation of successful landing pages can help increase your marketing ROI through your website AND help you ensure that you are targeting your ideal client.
The primary benefit of having a website is to explain what your business does, and how you solve your persona's problems so that you can generate leads. Right? So how are you collecting those leads on your website?
Sometimes you use a form that's embedded on a regular website page. And that can work. But when you really want to get and keep someone's focus on the topic at-hand, a landing page works well for lead collection.
It will allow you to gain valuable information from potential customers while offering them something specific to help them at the same time. This process of converting visitors into leads is critical for increasing sales.
Landing Pages 101
They are NOT any ol' page on your website where a searcher might "land."
Landing pages are not just any page on your website, nor is it a page that you would send visitors from your Google Ads or any other paid advertisement to. But, they are an essential part of any well-planned inbound marketing campaign.
In a nutshell, a landing page is a single page on your website that exists to convey a focused message and collect the interested visitor's information. Thus, converting a website visitor into a lead.
But, how do they work?
The Anatomy of a Landing Page
The one must have for a landing page is a form to collect lead information. However, typically your landing page would include:
What you're offering

How the visitor will benefit from your offer
Why the visitor needs your offer NOW
How the visitor can collect the information or offer
AKA: A form to collect the visitor's information.
A useful offer or information is best to entice your website visitor to give you their contact information in exchange for the offer. A bit of content on the page about why they might want to take advantage of your offer is helpful, but you need to make it obvious as to why this visitor needs your offering. What are they going to miss out on if they don't act NOW? They need to be enticed enough that they become willing to give you their email address in exchange for that content.
Let's take a look at an example
You can see a real-life example below. We've included information that the target persona would find useful, an offer that includes a free project checklist, and a form to request the offer and collect the visitors information.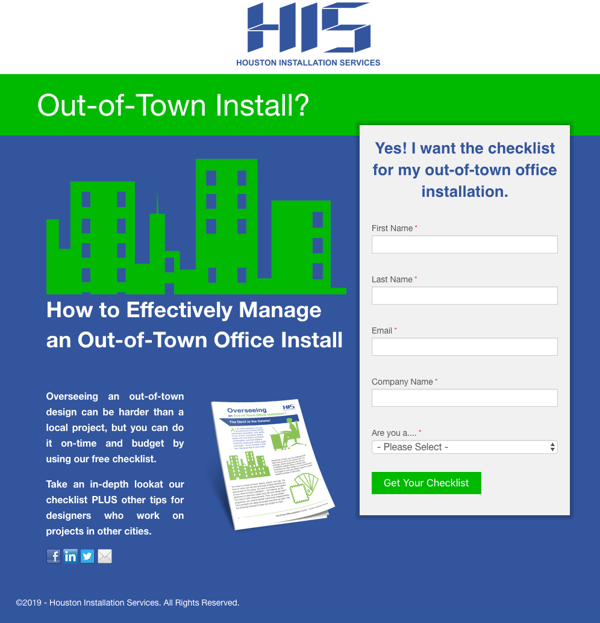 This is one of our clients that provides office furniture installation. They often work with out-of-town office furniture dealers and office space designers.
What are they offering? A

checklist

for

project managers

can use to ensure that they are staying on track when completing an out-of-town install.

How does the offer benefit the visitor? They

can use the checklist to ensure that they are staying on track when completing an out-of-town install.

Why the visitor needs your offer NOW? To ensure that their latest project is staying on on-time and in budget.
The information being collected on the form is only the information that the company needs to ensure that they can serve the lead appropriately. This form also triggers other marketing automation to start occurring based on the leads persona.
What information should I collect?
I mentioned above that having a form on your landing page is imperative. Your form is going to collect your visitor's information and turn your anonymous visitor into a lead!
It's not necessary to ask for your visitor's deepest, darkest secrets when you collect information. We start out asking just want we really need:
Name
Email address
Maybe one or two other questions that are pertinent for you to be able to close the sale.
Maybe their job title, or the size of the company they work for, or the frequency of their participation a sport are important for you to have in order to sort your leads into personas, but just keep it narrowed down to what you really need.
Important: Think like the customer. What would you be willing to give to get this free information that could really help you? I'm sure you'd have some limits! So will they.
What not to include on your landing page
And there's one thing you don't want to include on your landing page.
The rest of your website's navigation. Navigation is removed to keep the attention focused on the topic, and to avoid letting your website visitors get distracted. The last thing you want to do is let a website visitor wander through your website anonymously when you had their attention on a page that could have gained contact information for your sales team.
Once they've become a lead it's OK to use the full navigation. We often add the navigation back on the thank you page after the visitor becomes a lead. You can tell them all about the other cool things you can do when the time is right. For now, give them what they've asked for.
7 Tips for Creating Landing Page Forms that Actually Convert
So, how do you create a form that creates a positive and painless experience for your customers? Luckily, it's actually pretty easy using these seven tips!
1. Make the forms easy to use.
Like I explained above, only ask for the information you really need, don't get greedy. Also, be sure to use short labels and be very clear in what you're asking for. (No weird industry terms!)
2. Use the right layout on your forms.
One question or entry per row is ideal.
3. Reduce anxiety.
People are more resistant to give up their information because they don't want SPAM. They don't want their email to be shared, sold, or over emailed by your company. Calm their nerves by adding a privacy message, link to your privacy policy, or even creating a landing page video that explains how you will use their information.
👀Look at this example: We have an explainer video on our webpage!
4. Position the form properly on your website.
Make sure it is easy to see and find. Generally, on a landing page, you'll want to place your form above the fold so that users aren't having to scroll down the page to find it.
5. Use your CTAs effectively
The goal is to catch the visitors attention and drive action. Don't use the word "SUBMIT" on your form buttons! No one wants to submit anything. Instead, try using actionable language.
For example, "Download whitepaper," "Get your free eBook," or "Join our newsletter."

6. Design your form with visual contrast
It only takes a person .05 seconds to decide if they want to stay on your page, creating a visual contrast will help indicate which areas deserve attention.
7. Explain what happens next
People want to know what happens after they submit to the form. Be upfront and let them know; people don't like to be left wondering. Then, follow-through, and deliver your offer ASAP.
Landing Page Offers
So now that you know what you need to include on a landing page, and what information you need to collect, you might be thinking, "What should my landing page offer be?" It's OK! We get this question a lot. You're not alone. And thankfully there's a path to success!
Landing pages can be an extremely valuable tool for turning visitors into qualified leads because you know they have an interest in a specific product or service that you offer. And what's great is you can have as many landing pages as you want. Be creative. Think like your customers. What do they want from you? Then give them some of what they're looking for… for free.
What Should you give away on a Landing Page?
In most cases it should be something that they can't get without filling out a form on someone else's website. Maybe PDF that you're offering of important how-to content. Or maybe it's a video with some really great info included.
If the offering is compelling and strikes a chord with the visitor, they're going to be OK with sharing some basic information about themselves to access the content. This allows you to start earning their loyalty and trust. And what happens when someone likes and trusts a company? They give them their business!
On each landing page, you'll need to have a call-to-action. Tell them, in plain English, what you want them to do next.
3 Examples of effective calls-to-action are:
Download a free eBook – you'll see examples of this on our own website.
Download a coupon for a free trial or visit.
Download or watch a video with information the visitors are looking for.
Creating a Successful Landing Page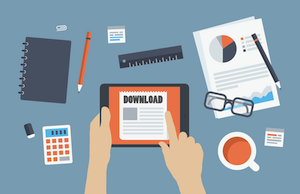 We've established that a landing page is instrumental in collecting some information that turns anonymous, unknown website visitors into identifiable leads. We've covered what your landing page should include, but do you have a strategy for how you'll make these landing pages really turn visitors into leads?
There are some landing page best practices that our marketing agency always recommends to our clients in order to help them increase the number of landing pages leads they receive.
5 landing page best practices that We Recommend
1. Keep your branding the same.
Make sure your landing page design looks like it belongs to your company and matches your company's branding standards. If someone was on your blue and green website and then they arrive on a landing page that's red and orange, you run the risk of confusing your visitor.
"Is this the same company?" and "Did I click the right thing?" are not the things you want your visitors to be saying. You want them focused on what you're offering to them in return for their contact information. By giving them a consistent experience with the rest of your company's brand, you're growing the visitor's confidence in your company as the expert (in whatever you do).
2. Keep your message consistent.
When someone is on your main website and they see a call-to-action to "learn more about how to build a widget," they expect to arrive on your landing page so they can "learn more about how to build a widget."
If they get to the landing page and the information is about "how to sell widgets," they're not going to be very happy. That's not what they were looking for.
This example shows how easy it is to lose a visitor's confidence simply by not delivering exactly what you promised. If a call-to-action states you'll learn about building widgets, be sure to offer that information (or how to get that information sent to you) on the landing page.
3. Stay focused.
It's easy to want to tell your potential lead about all of the awesome things you can do, but trying to cram all of that on a single page is just going to be overwhelming. And, overwhelming landing pages are not going to give you the results you are hoping for.
Successful landing pages are simple. Stick to a single topic for each landing page. Maybe it's a free trial or a free ebook. Feel free to explain why the offer is great, how it can benefit the visitor, and even stats, if they are helpful, and whatever you're giving in return for the lead information, make it easy to understand how to get it. However, don't go off topic. Save the next topic for your next landing page.
This also means removing distractions from the page, like extra links and the website's full navigation. (Remember, I told you this earlier. I was serious.) Save the navigation and extra links for all of your other pages.
4. Allow visitors to share your landing page.
Make sure visitors can click to share the page via email or social media platforms, such as Facebook, LinkedIn, Twitter and Pinterest (if you have pretty pictures.) Take a look below to see an example of how AddThis can look on your website.
It's a simple task that can go a long way in gaining new leads that you might not have otherwise. Odds are good that if a visitor is a good potential customer, they know some more potential customers. Let them do some of the dirty work and spread the word for you!
5. Follow up.
Follow up.
Follow up.
I cannot reiterate enough, the importance of following up with your new lead after they complete your form. You first follow-up should be to deliver whatever information or offer promised on the landing page. After your initial follow-up, you can begin he process of turning your new lead into a sale. Taking the role of educator, rather than a salesperson, is likely to turn those inbound leads into customers because of the trust that you're beginning to build with these leads.
Be sure you have a way of gathering the lead's information and putting it into a database that lets you setup and track future interactions; we use HubSpot. Which is software that works wonders in managing your content, visitor information, and provides marketing automation.
**Bonus Tip: Please make sure your landing pages are mobile optimized!
It's almost 2021, it's estimated that over 3.8 BILLION (with a B) people are using smartphones. You need to make sure that your landing page can be viewed not only from desktop computers, but also from smartphones and tablets. When implement this strategy on your website, be sure that you have a responsive landing page design. This means that no matter the device screen size, your landing page be viewable and actionable.
(I'm mentioning this because we are still come across mobile optimization issues on a regular basis... even when it's almost 2021.)
Measuring your landing Pages success
A completed form is considered a conversion. That's awesome. But what now?
Not everyone who responds to a landing page offer is ready to buy. In fact, you should have a number of landing pages with different offers that appeal to people in the different stages of the buyers journey.
Do you have the tools in place to follow up with these leads over time? It should come as no surprise that we use Hubspot. Hubspot is an inbound lead management system that we recommend to clients who are ready to increase leads and then nurture them through the process of becoming a customer. With automated settings and proven techniques for creating landings that generate leads, it's one of the the best ways to prove a return on investment in marketing. However, there are other CMS systems that can work for your company.
Landing Page vs. Homepage vs. Pillar Page - What's the Difference?
Homepage
Your homepage provides general information about your company, products or services. It, typically, should have many links which direct you to other pages within your site. This is useful to visitors who are just browsing for information.
landing page
A landing page requires an action from the visitor allowing you to follow-up and establish trust with your leads. This makes it more likely they that will keep them coming back to you for more information.
pillar page
Pillar page is a newer term, and you may be scratching your head, and asking yourself "Why is she bringing up ANOTHER type of webpage now? I've just started to understand what a landing page is!" Well, that's because they are important. I'll save the in-depth stuff for another blog post, but in order to avoid confusion, let's look at HubSpot's definition of a pillar page:
"A pillar page is the basis on which a topic cluster is built. A pillar page covers all aspects of the topic on a single page, with room for more in-depth reporting in more detailed cluster blog posts that hyperlink back to the pillar page.

Pillar pages broadly cover a particular topic, and cluster content should address a specific keyword related to that topic in-depth. For example, you might write a pillar page about content marketing -- a broad topic -- and a piece of cluster content about blogging -- a more specific keyword within the topic."

Related Read: What is a Pillar Page?
Get Started!
Now that you understand the value of the landing page and how it plays a key role in reaching your marketing goals, you're ready to get started!
Then, you can discover the benefits of your landing page by downloading our free eBook, How to Unlock the ROI of Your Marketing with Analytics. It's possible to increase your revenue by using the data collected from your landing pages!
Originally published April 2015. Revised November 2020.