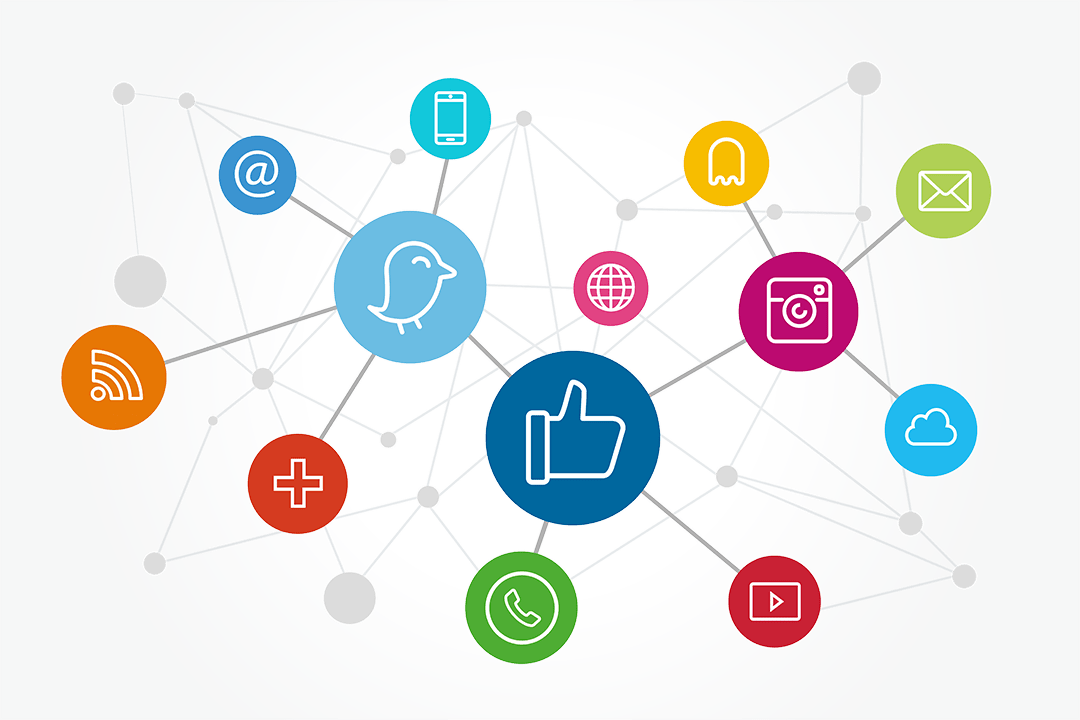 As the popularity of sharing just about anything and everything on social media sites continues to skyrocket, according to at least one elite source, the "slow and painful death of print" is comically referred to as how "Internet Killed the Newspaper Star." Back in the day when they actually played music on MTV, this was a clever and ironic twist on the first video ever aired on this channel, "Video Killed The Radio Star" performed by the Buggles way back in the eighties. (Yes, I can remember that far back.)
With today's more tech-savvy crowd swiping on their smartphones rather than reading a newspaper or flipping through the yellow pages, businesses absolutely have to look at the many many social media platforms. Choosing the right platform for social messages is an important first step. Let's look at some of the most popular social media platforms and who is using them, according to recent statistics.
Who are we trying to reach?
Before we dive too deep in, the most important thing to know is "Who are we trying to reach?" Knowing who your audience is, including their general age and interests, is the first step in deciding with social media platforms to use in your advertising.
Not sure what a persona is? Check out our guide for creating them before you go too far with any type of marketing.
Deciding Which Social Media Platform is Best for Your Business
Is Facebook Still The Fav?
We all recall when co-founder Mark Zuckerberg was being raked over the coals by a Senate committee in 2018. Headlines shared how he began back peddling and apologizing for recent data breaches and other trust-related issues with users on this popular site. In addition to this embarrassment, for the first time in over a decade, YouTube dethroned Facebook as the number one platform on the internet.
Despite this type of negative attention, Facebook still boasts that 70% of the US population has a Facebook account. It remains a primary social media platform for the adults over age 25, with many of them accessing their account every day.
Unfortunately for businesses, in January 2018 Facebook announced that it was giving users more control over what they see in their newsfeeds. This means businesses are more likely to get squeezed out unless they're willing to pay to play – for ads. For more information about advertising on Facebook, check out "Five Tips For Running Facebook Ads That Produce Results."
But if Facebook continues to lose traction with the younger crowd, Instagram will give them and YouTube both a run for their money for their coveted spot on top. Also if this trend continues, similar to the demise of things like the use of telephone books, Facebook is likely to become a place to connect with older audiences, mostly those in their mid-thirties or older.
YouTube Climbs To The Top
Similar to the status of FB, YouTube is competing with a growing number of other, younger video-based platforms. Businesses should be sure they have a version of all their videos out there so they can be found, even if the viewer is not on the business' website. We know that video content is a little harder to produce, but it's so important to figure out given the following stats about YouTube:
It's the world's second largest search engine.
96% of today's teens watch videos using this venue
35+ and 55+ age groups are the fastest growing YouTube demographics.
YouTube reaches more viewers than either broadcast or cable networks.
If a picture is worth a thousand words, clearly video is worth a million more. When it comes to the sharing of video content, YouTube, Facebook and Instagram are the clear winners. 93% of business report getting a new customer after posting a video on social media.
Instagram Ignites Online
While Facebook and YouTube take the top two spots for social media usage today, Instagram has quickly jumped to take over the third slot.
Many millennials and a majority of younger users (under 21) have been migrating here to do more than look a pictures. They're using it to communicate with their friends online, often as much or more often than they text one another.
As time goes on, Instagram's lead over other sites like LinkedIn, Pinterest and Twitter continues to expand. There may come a day when Facebook is dethroned as the number one social site if younger generations of Millennials and Gen X, Y and Z continue to migrate over to this popular and ever-expanding platform. If marketers are targeting a younger audience, or if the products your selling are easily communicated in a video or photos, Instagram is a good choice.
Ads on Instagram are also run through the Facebook platform.
LinkedIn Big With Businesses
The primarily platform for business relationships is LinkedIn. It has a more intelligent and wealthier user base compared to other social media channels. Roughly half of the registered users on LinkedIn have a college degree compared to just 9% of their members who possess a high school diploma. When it comes to connecting with colleagues or other business people online, this platform reigns supreme with:
80% of B2B leads coming from this site
Almost a third of small businesses being active on LinkedIn
91% of executives use this place as a source for content
Currently, LinkedIn holds a 25% share of the social media networking marketplace just above Twitter and right beneath Snapchat. While this may seem insignificant, they still hold a solid, strong stock of attention and interaction among business and professional audiences.

Pinterest Gains Shopping Status
While Pinterest has held a predominantly female audience with women accounting for 80% of their membership in the past, men have starting signing up for 50% rise in recent sign-ups. Because online shopping is increasing, so is interest in Pinterest as a platform for planning purchases. Nearly all users report using Pinterest to get ideas and plan a purchase. As a growing source for shoppers, half of their members admit to making a purchasing after seeing a promotional pin and:
Holiday shoppers placed Pinterest into the second slot for obtaining gift-giving ideas
Those with an annual household income in excess of $100K account for 40% of their membership
There are five million businesses showcased on Pinterest
This platform is a good venue for showcasing quick tips and tricks along with infographics as long as these posts are image-heavy.
Snapchat Starts To Soar
Snapchat has become the hot new place for youngsters to hang out with 78% of eighteen-year-olds and twenty-somethings playing on this platform. In addition, the majority (71%) of these users are visiting Snapchat multiple times per day. Along with Instagram, this snappy and chatty platform is where to reach pre and post-millennials along with other alphabetically labeled younger generations in today's online marketplace.
Is Twitter Still Trending?
Popular with the POTUS and many celebrities over the years, the short blasts on this platform are seen by more than 325 million active monthly users. Remember when Ellen DeGeneres' star-studded selfie crashed the Twitterverse and set a new record on this platform? While sometimes it may seem like this occurred just the other day, that headline-grabbing event happened almost five years ago now.
During this time, the popularity of this platform has been on the decline and even their stock has dropped as a result of this trend. But don't give up on Twitter just yet since they still garner a youthful audience with 40% of those aged eighteen to twenty-nine-years and a recent 9% growth in new subscribers. With 95% of Twitter followers engaging on YouTube, 90% found on Facebook and 73% of their users on Instagram, it's an effective method when it comes to multi-channel marketing strategies.
New Kids On The Block (NKOTB for
80s fans ;-)

Apologies for another shameless eighties reference, but similar to the trends we're seeing with the rise in rates of younger users migrating to Instagram and Snapchat, keep your eyes on newer platforms when it comes to rising stars like Reddit, WeChat and WhatsApp. Along with other lesser-known sites such as Messenger, Qzone and Sina Weibo, their MUA rates (number of monthly active users) are in the millions and in some cases billions of people interacting on these platforms that are growing in popularity.
Go Fourth and Stretch Your Social Butterfly Wings
Businesses should choose one to three platforms so they aren't spreading themselves too thinly on social media. Develop a routine to ensure that you're monitoring these sites daily to keep your online audience engaged. By establishing why you are using social media, recognizing your audience's needs, and knowing the right places to appear, you should be able to improve your presence and drive a sales strategy through social media.
Originally posted February 2015. Updated February 2019.