What do you consider the most important aspect of a good website? Maybe that it uses pleasing colors? The photos are nice? The layout makes it easy to use? A recent study by HubSpot shows that the most important element of good website design is the ease of finding information. Website navigation is a key component for a visitor to find what they are looking for on your website. Let's look at why that's the case and what qualities make for great website navigation.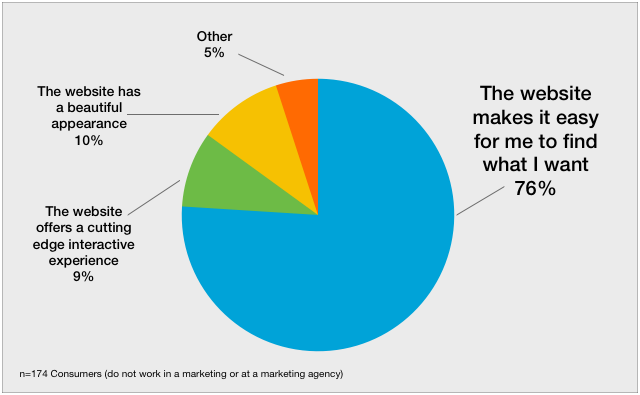 If you build it they will come, but can they find what they're looking for?
How many times have you been to a website and couldn't find what you needed because the navigation just didn't make sense? Some websites try to be clever with their navigation to make it flashy at the expense of the visitor. It might look great or have a cool effect, but if no one sees it or knows how to use it, then you've failed. Navigation should be simple and straightforward. This isn't the place to wow your audience.
Know your audience
The type and complexity of navigation you use depends a lot on your target audience. We work with several cancer centers. Knowing that many of their site visitors are older, we want to make these sites as easy as possible to use. The type of navigation used on medical websites plays a big part in the usability for older visitors. For instance, we don't use drop-down menus in the top navigation because of the precise mouse movements required to select an item from a drop-down before it disappears. This doesn't mean that we can't have a site with a complex page structure, it just means that we use an additional navigation menu in the sidebar to let the visitor find more information.
When drop-down menus are used, it's best to limit them to a single level. A drop-down with more than one level can be frustrating for anyone to use when trying to select an item from a 2+ level flyout menu.
Keep it Simple
Navigation should be as simple as possible. Main navigation should not contain more than seven to eight items so that you don't overwhelm your visitors with too many options. Try to keep the title of each navigation item as short as possible. This will allow the space around each item to make them stand out and easily to distinguish. Learn more about the importance of white space in website design.
Navigation in 2015
It's always important that your website keeps up with technology advances and for the last few years that's meant making sure your site is optimized for different size devices. Navigation is an especially important design element to pay attention to as more and more people access your website on phones. Google says that about 50% of your visitors are coming to your site on a phone. We've seen the same results in the statistics of most of our clients. Using responsive web design to build a site that adapts to any screen size is a must in 2015. This includes changes in how visitors navigate your site. Traditional website navigation no longer works on a smaller screen because of the limited real estate available. Responsive navigation allows your menus to adapt to the smaller screen so that your visitors are still able to find the information they need.
Stay out of the way
The best website navigation doesn't get in the way of your visitor's experience. It should be simple enough for visitors to find what they need without thinking about where to look. Building your website with simple navigation that is easy to use on anything from desktops to phones, will delight your visitors and keep them coming back to your website!
Learn more about how to make your website work for you by downloading the ebook below.
Image Credit: Ania Mendrek (CC BY-ND 2.0)