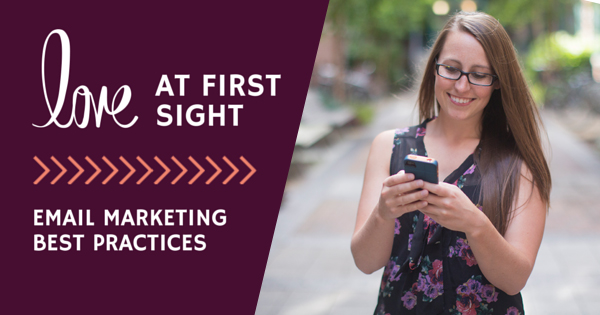 A marketer's dream: a subscriber opens, reads, clicks and shares your email. They love your content at first sight and want to tell everyone about it! We've pulled together some of the top email marketing best practices to help your readers fall in love with your content.
1: Simple and Fast
The first tip to improve email campaigns is to keep your message simple and straightforward. Someone should be able to make out your point in 5 seconds or less. Test this out by sending your planned message to a friend and ask if they got the point within the first 5 seconds of opening the email. Keeping your message simple will help the reader stay focused on what you want them to learn.
2: Typography Tells All
Email marketing campaign design begins with typography. There must be text in your email explaining your message versus just using one big image. Your subscribers will always see the text of your email first before any images load. You must get your message across clearly without using images. That being said, from a design standpoint, use no more than 2 fonts in your design. Keep your headlines larger than your paragraph text. This will keep the email campaign design simple and clear to push your message out there.
3: Width & Images
Another way to improve your email campaigns is to keep the width of the email design to 600 pixels wide. This is to be sure the email will load in all inboxes and devices. You don't want your reader scrolling left and right trying to read your message. Images placed in your email should be saved for the web at the smallest file size possible for faster load times. Read more about optimizing images for the web on our blog. Lastly, make sure the size of the image doesn't push the email's design past 600 pixels wide.
4: Give Them Action
You MUST give your readers an action. This is the most important of all email marketing tips! Reading your content shouldn't be their final step. Give them the next step you want them to take. Make it an exciting offer so they have no choice but to click to find out more. You could possibly send them to a landing page you create on your website. The action should be a button that is very noticeable. Buttons are more noticeable than text links, thus getting you more clicks and interaction. Make the button a different color so the eye is drawn to it. Many of these design options are available in the email campaign builder.
Email Marketing ROI is 4300%! Using these email marketing best practices will only help improve your email marketing ROI and increase your number of leads. Learn what other tips can help you measure the ROI of marketing using analytics with our FREE ebook How to Unlock the ROI of Your Marketing With Analytics!