The day is coming. April 21, 2015. Are you ready? For the first time, Google has given us an actual deadline for a change they're going to make in their search algorithm. Also for the first time, they've given you some heads up on how this will directly impact you. Your site must be considered "mobile-friendly" by this date. The consequence if you don't comply: You will be removed from Google search results conducted on a smart phone. This is a big deal.
Starting in January 2014, mobile internet usage was greater than desktop internet usage. That means we use our phones for just about everything, including searching for stuff. It's anticipated that local searches via mobile device will surpass searches via desktop at some point this year. You want to be sure you're not left out of the approximately 86 billion searches to be conducted on a smart phone this year.
Because of this Google has made it a priority for their mobile search results to only present websites that will be legible and usable on a mobile device.
So how do you know if your site is going to stand the test? And if it's not mobile-friendly, what can you do?
What is a Mobile-Friendly Website and What is Not?
A mobile-friendly site is one that presents pages in a format and at a size that you can read/view on a smart phone without the need to zoom in. Here are two examples: The image on the left is the entire site, just made very small. You have to zoom in to see what's on the screen. The one on the right is mobile-friendly and presents the content in a way that allows you to scroll down and view everything at a size that's legible on a phone.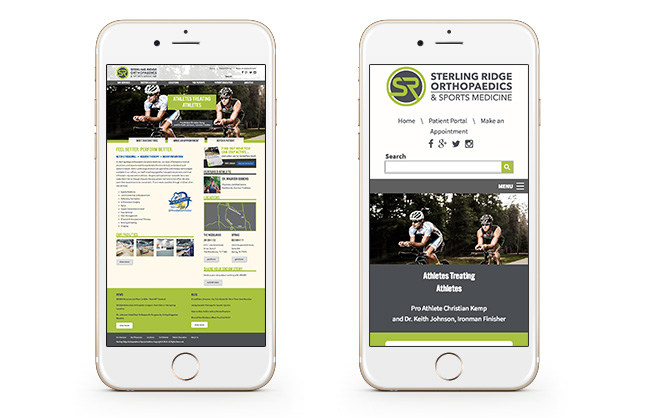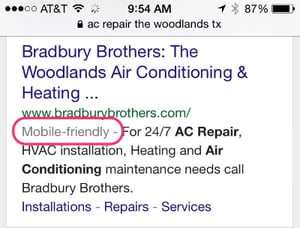 Google will even tell you in the search results on your phone if the result is a mobile friendly website. We assume that will go away shortly because everything will be mobile friendly in the phone's search results or else it won't be there at all. And with some of our clients' sites receiving more than half of their visits from a mobile phone, this is a change that can't be ignored.
It's important to note that a separate mobile site (sometimes you'll see an "m" in front of a web address on your phone) is not an acceptable solution. This was what everyone did a few years back when small browsers were just becoming popular. Separate code was used to present some content, but not all, at a size for phone screens. Since then, responsive websites have become the new standard which is what Google would really like you to use.
How to Test Your Site for Mobile Friendliness
The best place to start is to see what Google sees by running the Mobile-Friendly Test. Here's an example of a result. If you don't pass, it will tell you specifically what is wrong. In most cases, the problems will be listed as: links are too close together, the font is too small and mobile viewport not set.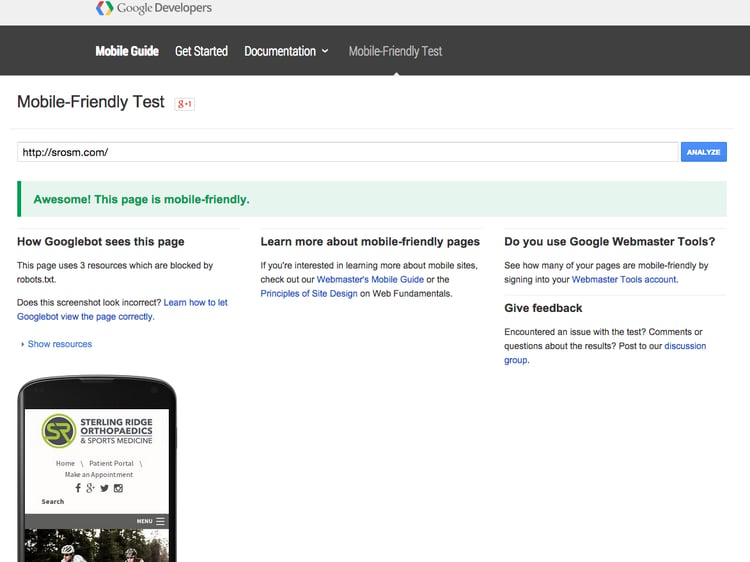 There will also be some instructions on what to do. This is really written for web developers so the average website owner may not be able to make the changes being recommended.
What to Do if Your Website is Not Mobile-Friendly
Rethink
It's likely that you're going to have to invest some money in getting your website mobile-friendly if you haven't already. We compare it to tearing out the walls of your house for new plumbing to be installed. When you put the walls back, it may be time for a new color. The same could be true for your website. Have you been thinking about things you wish you could do or would like to have? If there will be time spent recoding you may want to make the cosmetic edits now too. It would, in many cases, be more economical to do all the changes at once. Take a look at our eBook on 25 Must-Haves for your website for ideas on what to consider updating.
Recode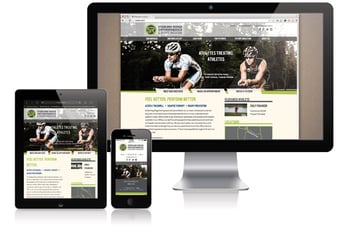 Since Google's suggestions will sound like greek to anyone who doesn't code websites for a living, it's best to leave this in the hands of experts. I know, it's somewhat self serving for us to say that, but I recently read a quote that said, "If you think hiring a professional is expensive, wait till you see the cost of hiring an amateur." So basically, if you're not sure what you're up to, it's more economical to have a pro do it right the first time.
You'll want to have the site use a responsive design that will look good on a phone, tablet and desktop as seen here. This also allows you to have just one set of code for the site.
React
We know that an offense is the best defense. But sometimes reacting is necessary because we can't predict what Gogole is going to do next. At least this time they've provided a specific date as a target for our reaction. It would be best to work quickly to make a plan and get it executed. Of course we're always here if you need help.