Whether you have a big marketing budget or a small one, it's always good to hear the word "free." But are free marketing services really and truly free? Or are they stripped of most of their features so you pretty much have to upgrade? Those are the questions that run through a marketer's mind because, well, we've all been there.
But, free online marketing tools really exist and they're pretty useful. Fair warning: Since they're not made by a charity there are additional things you can add on and pay for. But the basic tool is very functional for certain purposes, free, and you could stay on the free version for as long as you'd like. There are many options out there, but there are three free marketing tools that we recommend to get you started.
Three of the Best Free Digital Marketing Tools
---
1. HubSpot - Free CRM, Sales, Marketing & Service Software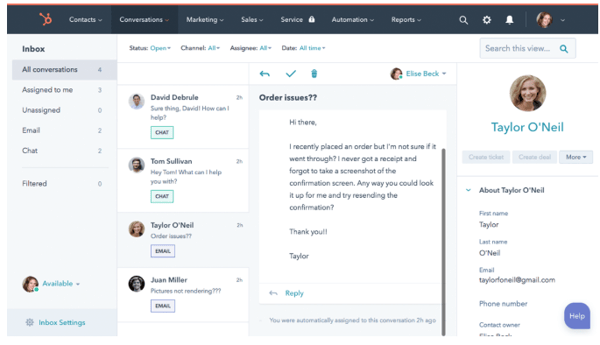 This is more than the free CRM that HubSpot has been offering for a few years now. Although even the CRM has had additional features included in the past year. HubSpot also now includes a useful and free version of
Marketing automation

Sales automation

Customer service tools and automation
Of course, you can upgrade to get additional features and functionality that isn't offered on the free version, but if you're just trying something out like AI (artificial intelligence) bots, sales chat or pop-up forms, this could be a great way to get your feet wet without a huge commitment.
Here are a few of the features that make HubSpot worth looking into:
Sales services including a deal pipeline, to-do tasks, recorded calls and document storage

Live chat service for your website

Free custom web form service that's great for lead collection, contact forms, etc.

Chatbots for lead collection and customer service

CRM integration with your Gmail or Outlook email

Advanced email scheduling so emails can go out at time in the future that you select.

Meeting scheduling service that works with your calendar so you can offer time slots to those who would like a meeting with you.

Google and Facebook ads management tools

Customer service ticketing system
There is also a TON of free training on how to use HubSpot effectively to grow your business on their website. Even if you're not going to use the tools, earning the Inbound Marketing and the Inbound Sales certifications will give you an overview of what it takes to grow your business. But here's a look at just some of the free training formats so you can find one that works for you.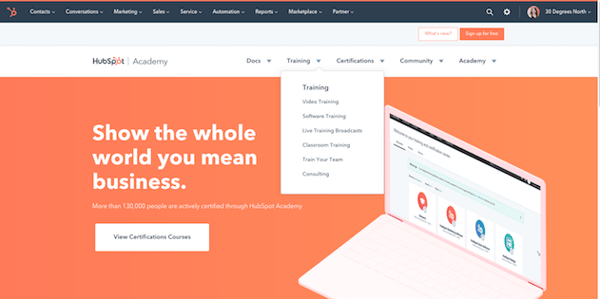 If you're interested in learning more or starting out with the free HubSpot tools, you can visit the HubSpot website.
2. CANVA - Create free CTAs and Ad imagery
We know that pictures can make a break a website engagement, an ad or a social media post. So how can you get some great looking imagery without having to pay huge amount for stock photos, a designer, design software, etc? That's where we've found Canva to be super helpful.
Note: There are some standard dimensions you should stick to for things like Instagram and Facebook posts so that your image and/or message doesn't get cut off.
Check out the CTA I made for our free content offer (for real) using this tool. This took about 10 minutes using a free Canva template that included the pre-set size.
If you're looking to catch someone's eye on your website so they'll become a lead, this tool can help!
There are many great options for creating imagery in Canva, including:
Templates you can use as starting points or a blank canvas
Custom sizes or pre-set sizes
Many free images you can use. Some require a small fee, but very inexpensive in comparison to buying the photo directly from a stock photo website.
Design training on how to make something look great
We have designers in house, but as a marketer there are times when I just want to get something done without being in the designer's queue. This is a great way to do it and have it look professional.
3. Databox - On-demand, easy-to-understand Reporting
Reporting. It's something we all need, but no one wants to have to spend the time to get it done. If you're using HubSpot you can see some data on the dashboards, but it can be hard to get executives to login and look around in the tool. Most of us want to see just what we need to know in a nicely distilled, easy-to-understand format.
Enter Databox. They get it. That's because they have a staff filled with former HubSpotters who understand what KPIs are most likely to be reported on and how critical reporting is to everyone in your organization. They've made it both free and easy to create reports.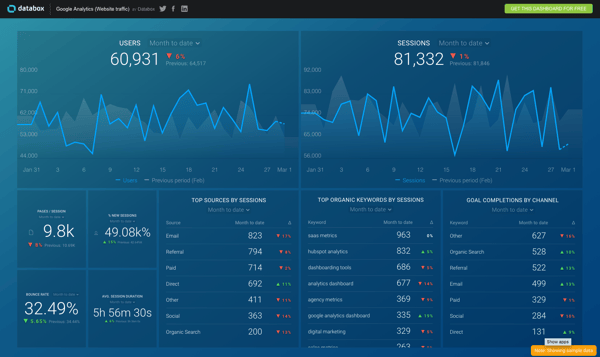 With their free tool, you can create very customized dashboards that are constantly up-to-date with the latest data from sources such as:
Google Analytics
Google Adwords
Facebook Ads
HubSpot
SEM Rush
This is perfect for when someone pops in and says, I have a meeting tomorrow, can you give me stats on [insert whatever that metric may be]. With this in place you won't have to spend your time doing a bunch of report generation. There is a spot where you can type in some analysis if that would be helpful for your viewers.

How you present the information is totally up to you and what works best in your situation.
Some of the other cool, free features that we like about Databox include:
Goal tracking

Alerts

when you hit or miss a goal

You can create several reports from different data sources and view them in one spot
Schedule email snapshots

to be delivered to the key staff member's inboxes

Access via mobile apps (iOS & Android)

TV display option. This is fun when you have data you'd like to track together as a team.
I'm sure there are other free marketing and sales tools out there that are great, but these are three that we use, like and trust.
Originally published November 2015. Updated March 2019.