As a business owner, you're always hustling to find new customers. Without new clients, you can't grow your business and move your company forward to bigger and better things. Marketing is essential to finding a new client base and increasing your profits.
If you have a marketing department or a firm that you work with, you already know that they speak their own language. It can be challenging for you to make marketing decisions when you don't understand the terminology and the pros and cons of different types of marketing campaigns.
We're here to help. Today, we're going to dive into a look at content marketing versus inbound marketing. We'll explore what exactly each of these types of marketing is and the ways in which these two marketing strategies can work together to help you make better decisions on how to spend your marketing budget.
What Is Inbound Marketing?
Inbound marketing is a strategy of gently pulling clients to your products and services that they need by helping them with useful information or solutions that they need. Inbound marketing is designed to answer your potential lead's questions and helps to solve any well-known problems. An inbound marketing strategy replaces all of the pesky, in-your-face, irrelevant marketing noise that consumers are constantly exposed to.
When you're focused on creating an inbound marketing strategy, you need to assess your potential client's needs during each stage of the buyer's journey. Over time, you build trust with your window shoppers and turn them into loyal customers. After the first purchase, you will continue to nurture the relationship to create an army of loyal brand advocates.
Let's look at this example: You have an online skincare store. You write a weekly blog to highlight beauty issues, skin conditions and ways to improve the appearance of your skin. One of your loyal blog readers, Mary, suffers from eczema. Mary originally found your blog when searching for food that may be related to her eczema flare ups. (The relevant information found on your blog turned Mary into a lead.)
After reading your blog for a couple of weeks, Mary decided to purchase some of your skin cleaners to see how it works for her skin condition. (Congrats, your blog engaged Mary enough to make her want to become a customer.)
You wait a week for Mary to try her products and then check with her about the results and maybe even offer her some more tips about combating eczema. You might do this through email or with a survey. When her friends and family comment on how great her skin looks, Mary brags about her skin care company! And, the next time she needs skin care, Mary remembers how much your company invested in her and orders with you again. (Awesome, you've now made your customer into a promoter. Not only will they continue to come back to you, but they will also encourage others to use your services as well.)
What Is Content Marketing?
Content marketing is a strategic marketing play that uses content — blogs, newsletters, videos, games, social media posts, and more — that provide educational information to your customer base without pushing the sale of your products and services. Content marketing is just one part of a more extensive inbound marketing campaigns. If you can get your customer base to return to your content over and over again, you're building brand loyalty and creating goodwill.
Of course, I have another example for you: Now, you own an HVAC company in a small town in middle America. On your website, you have a blog that covers a variety of topics about air conditioners and heating systems. Greg lives a couple of miles from your company, and one evening, he comes home to find his air conditioner blowing warm air on a hot day. (Miserable, right?!)
Greg Googles, "Why is my AC blowing hot air?" And, your blog on AC repairs pops up as one of his choices. This is content marketing.
BUT, if we take it a step further... Greg calls your business for a service call, after he read your blog. This is content marketing that's developed into inbound marketing. (It's all coming together now!)
The content you create should provide valuable information about your industry, even if it doesn't directly relate to your personal business or goods. You want to use the content to position yourself as an expert in the field.
When creating content marketing, it's essential to be consistent, honest, and helpful. Your customers will become frustrated and stop following your content if it's inaccurate. It doesn't provide them any value, and they will stop reading content that doesn't add value to their lives.
How Inbound Marketing and Content Marketing Work Together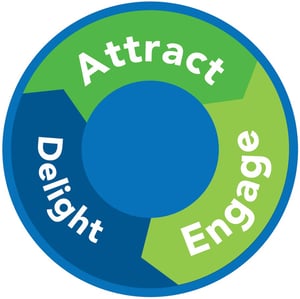 There are three strategies employed in inbound marketing, and they utilize content marketing:
Attract
Engage
Delight
Attract
You start by attracting your clients to your website, into your store, or to call your customer service line. At this point, you want the customer to choose to interact with your company and come into your storefront or online store.
This is the step where content marketing takes the lead. You target these clients with content that interests them. You can use blogs, website content, and even social media post to provide educational information and practical advice to help your possible customer solve a problem they've been struggling to solve.
For example, you run a cosmetic company. Your target audience is women aged 15 to 35. As content media, you decided to create a vlog (video blog) on your website. Your vlog includes news on new product launches, makeup trends, and all things cosmetic related.
Nicole is looking for "the best make-up tips for day to night." She has landed on your website via a video covering this topic. You've officially attracted a new prospect!
Engage
During the engagement phase, the customer has arrived at your company's store. It could be a client visiting your website or someone who is engaging in chat on your website, asking questions. During this phase, you want to offer the customer a solution to their problem and not just a product. Maybe you recommend your products to her, maybe you don't: You're not pushing features and benefits here. You're helping them make a decision that's right for them.
Returning to our example of Nicole: At the end of your vlog, your conversational bot pop-up and asks Nicole if she has any questions or needs additional help. She begins interacting with the chat feature and is able to get some additional answers to her questions. These additional answers gently lead her to purchase one of your products as a solution to her problem.
Delight
In the final phase, you delight your customers. The first way is how well your product provides a solution, but it's more than that. You ALWAYS want to follow up with customers. Establish yourself as a brand they trust, and can turn to with their ongoing needs. You can do this with follow-up phone calls or surveys, or even smart content displayed on your website. You want to position yourself as an expert advisor who is always available.
At 30 Degrees North, we understand the ins and outs of inbound marketing, and we strive to work with our clients at each phase of a project. Plus, offer a free, no-obligation website and marketing assessment!