You've got a website up and running. You're looking at the metrics each month. However, how do you know if it's generating leads for your company?
Business owners often ask us, "How many people came to my website last month (or week, or year….you get the picture, right)?" While we can answer that question, we have to push one step further which is, "Are you seeing an increase in leads and ultimately an increase in sales from these visits to your website?" And if not, "What should you do about that?"
You see - it goes beyond just website visits. The magic is in attracting the right kind of leads and converting them into customers. If that's not happening – or you don't know if it's happening – there's some work to do to create a lead generation machine.
Let's start with the basics.
What Is a Lead?
It sounds like such a simple question. A lead is someone that shows interest in your product or service.
Where it gets a bit trickier is when we start to look at the quality of the leads being generated. One study by Marketo revealed that 79% of marketing leads never convert to sales. The biggest reason is that while they've shown an interest, they've never been turned into qualified sales leads (SQLs). A sales qualified lead is someone that's gone beyond showing an interest and has demonstrated an interest in buying your product or service.
Why do so many leads fail to advance? Most often it's because of a poor system for managing leads.
You've spent a lot of money creating websites, content, marketing, and advertising to generate leads but if they're not the right kind of leads, it can waste a lot of time and effort. When sales teams were asked about what they needed most from marketing teams, better quality leads topped the list followed by more leads.
Many businesses make a critical mistake in the earliest stages of their marketing efforts and website development. They fail to define the criteria by which it will be judged. If you're unable to track what worked, what didn't work, and whether you accomplished your goal, what's the point?
Every piece of content you create should have a clear purpose. It's only then that you can judge whether it's successful in attracting and converting the right type of lead.
What Is Inbound Marketing?
Inbound marketing isn't simply a marketing tactic. It's a strategic approach to generate quality leads. While many companies will invest in a variety of marketing services, it's most effective when these efforts are all part of an inbound marketing strategy to generate leads.
Inbound marketing includes:
Search engine optimization (SEO) - including competitor analysis
Content development: blogs, case studies, eBooks, success stories, and videos
Social media posting and monitoring
Strategically-placed digital ads, Pay Per Click (PPC), and other promotional activities
Integration with CRM and contact databases
To get started with inbound marketing to generate quality leads, there's one more thing you'll need to do. That's to check your website analytics.
Check Your Website Analytics
Checking your analytics helps you prove the return on your investment in your marketing efforts and get answers to important questions about the traffic to your website, including:
How many leads did we receive from the website?
How many of my leads turned into sales qualified leads?
How many SQLs converted to sales?

By understanding these metrics, we can help chart the customer journey as they entered the sales pipeline all the way through completion. If we've established clear goals and a strategy for tracking, we can also establish benchmarks for two crucial pieces of marketing intelligence.
How did they come to learn about us?
What communication tools are working best to increase sales?
The answers to these questions can help you hone your marketing efforts to generate more leads and more sales qualified leads.
These questions are easy to answer when you use an inbound marketing campaign system as the hub for building your lead generation machine. You'll know how people are finding your website, what content they find most compelling, and even collect a list of leads that you can then nurture into customers.
How to Generate Sales Leads in 6 Steps
Now that we've got that out of the way, it's time to talk strategy. So, how do you increase website leads? Let's go step by step as you start to develop your inbound marketing campaign to increase your lead generation:
Step 1: Analysis
Can you tell how many new customers you obtain currently from your website each month? Google Analytics is free. HubSpot is another option. When checking your analytics, you also want to track where they're coming from. This will give you a baseline before you start any inbound marketing efforts.
Step 2: Goal Setting
Based on what you find during the first step, set some goals for increasing sales as a result of generating qualified leads from the website. These should be specific numbers that you are trying to reach each month.
Step 3: Content Development
In the old days, our sales teams could lead the sales process. It doesn't work that way anymore. By the time a prospect connects with a sales rep, they're far along in the customer journey. They've done online research and decided whether they're interested. That's why inbound marketing is so essential to the marketing process today. If they don't find your products or services online when they're searching for solutions, you'll never capture them as leads or convert them to customers.
While each piece of content should have a goal, all your content has two overriding concerns:
Establish trust
Get prospects to take the next step in their customer journey
Trust is at the heart of everything in sales. People don't buy from brands, companies, or people they don't trust will deliver on their promises. When trust is established, however, it pays off in multiple ways. Customers that have trusted companies over time are:
112% more likely to make the first purchase
114% more likely to stay loyal to the brand
113% more likely to become brand advocates
Trust is what turns them into leads.
Step 4: Nurturing
Once your awesome content is generating leads, that doesn't mean they're ready for sales. It will take multiple touch-points to establish trust and drive leads through the sales funnel. You'll need to nurture them with additional information. This means creating additional content aimed at providing the right information to the lead at the right stage of their buying journey.
Organizations that excel at the lead nurturing stage create 50% more sales qualified leads, and they do it at a 33% lower cost, according to Forrester Research.
Step 5: Promotion
To maximize your content and inbound marketing strategy, you've got to do some promotion to ensure the right audience finds it.
SEO will be an important part of your efforts – both onsite and offsite. We'd all like to think organic search results are free. The reality is that organic search is earned. Whether you do it yourself or hire someone to handle SEO for you, it's an investment.

On-Site SEO
Optimizing your content and your website will help ensure search engines will evaluate and rank your content for organic search. This includes publishing relevant content, updating it regularly, and providing real value for users. It also requires technical SEO, such as using the right keywords, meta data, alt tags, cross-linking, and optimizing titles and formatting.

Off-Site SEO
Off-site SEO includes all the things you can do outside of your website to impact your search rankings. Much of that has to do with building quality links from high authority websites. Other strategies include social media marketing, guest blogs, linked brand mentions, and influencer marketing.
Paid Digital Ads
HubSpot reports that 68% of marketers also believe paid advertising to support their inbound marketing efforts is very important or extremely important. In a survey of 3,400 marketers, Google PPC and Facebook provided the best ROI overall. For B2B, Google and LinkedIn were the top places to drive qualified traffic (Content Marketing Institute).
Step 6: Measure, Optimize, and Repeat
Once you've established your inbound marketing strategy and taken the steps above, you can measure the performance. Look at what's working to attract prospects, what content drives them forward to the next stage in their journey, and what provides the highest return of qualified leads. This helps you optimize your marketing and prove the ROI of your efforts.
Most marketers are doing constant testing at this stage. This means A/B testing of titles, landing pages, offers, and content.
How Inbound Marketing Generates Leads
More than 95% of marketers report that content marketing – the key component in inbound marketing – is an important component of their overall marketing strategy. How do they determine success? Lead generation and sales conversions.
As part of your inbound marketing strategy, content creates the foundational pieces that produce leads and helps improve your organic search results.
Create customer connections
Demonstrate authority and develop trust
Built relationships with customers
Solve customer problems
Explain the benefits of your products or services
Differentiate yourself from your competitors
Build your reputation
Inbound marketing helps build meaningful relationships with prospects and customers. Our friends at HubSpot explain it this way in three stages:
1. Attract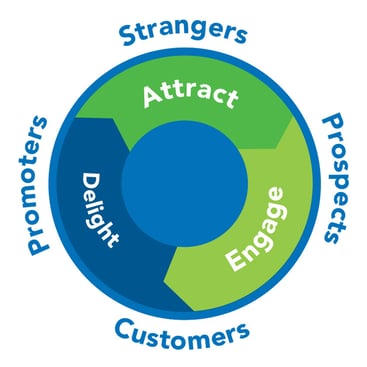 Draw the attention of the right people by providing valuable content. Create conversations that demonstrate authority and establish your company as a trusted advisor.
2. Engage
Present industry insights and solutions to alleviate problems. Demonstrate that you understand their pain points and provide ways to ease their pain.
3. Delight
Provide support to help customers be successful using your products and services.
You can think of these three stages as a wheel. (HubSpot calls it a flywheel.) Delighted customers often share their success with others. This can lead to referrals and help attract other leads. It can become a self-sustaining loop.
Make the Investment
By investing in inbound marketing strategies, you can generate quality leads and build momentum to keep the flywheel spinning. Aligning marketing and sales can also reduce the friction for prospects that might cause the flywheel to slow down.
When you're setting your 2021 marketing budget, inbound marketing should be one of your key items to start building your lead generation machine.
Let's Get Started with Inbound Marketing and Generating Quality Leads
Are you ready to learn more about how you can make all of these things happen for your company? It's not just a pipe dream. We promise. Get in touch with the inbound marketing and lead generation experts at 30 Degree North today to schedule a free consultation.
Originally posted May 2014. Updated for accuracy December 2020.