Good design is something you see every day. Throughout our day, we experience good design. Whether it's on the box of toothpaste you use or that billboard you see on your way to work, good design is happening all around us.
At the same time, there's also bad design happening all around us. A misspelling? Colors that clash? Too many words? Everything is too symmetrical? Cheesy photos? Our brains notice when something isn't quite right on a billboard, on packaging, or in an advertisement. The same applies to your website.
Your website represents who you are and what you offer. When people see it for the first time they're thinking:
Is this website credible?
Is it trustworthy?
Is this a professional company?
Is this company stable?
Does this site make me feel welcome?
Am I in the right place?
Good design helps answer all these questions and more. It provides your visitors with an experience that makes them want to stay on your site. When you begin planning out and designing your website, you need to ask yourself these questions. You only have 50 milliseconds to make a good first impression!
4 Must-Haves When Creating a Great Website Design:
1. Proper use of colors
Use the right colors for your audience and to draw attention to select elements. Don't try to make everything jump out. The result will be just the opposite – nothing will stand out. Avoid a chaotic mix of colors on your website and instead, pick two to four colors for your template and marketing materials. This is typically your brand's colors with some complementary accent colors.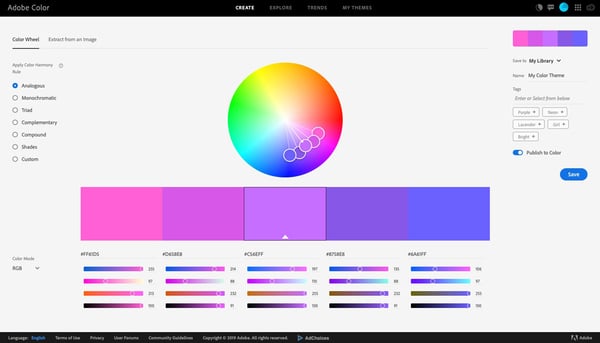 A good resource for helping to pick your color palette is Adobe's free site, Adobe Color. It allows you to input your main color and then creates multiple palette options based on that color.
2. Limit animations, gadgets, and media
Done tastefully, a minimal amount of animation on a website can create a pleasant user experience. Some websites try to cram everything onto the homepage and call attention to it by using animation. Avoid anything unnecessary to be sure your message and call-to-action are clear.
A good example of properly using animation is animating text. Headlines or call-outs can slide in, fade in, or both. Just don't make your animations distracting. They should be a second or less and assist in the overall user experience. Use them to enhance your users visit to your website, not hinder it.
The same can be said for gadgets and media. If newsfeeds, calculators, etc. are necessary on your site, they should be incorporated into the overall look and feel of the site. Nothing kills good design like plopping a widget on a site without a sense of how it should work into the overall design.
3. Thoughtful Layout
You've heard the phrase, "less is more." In good site design, that couldn't be more true. Your site needs to be designed so that content is broken up into digestible chunks for your visitors to absorb easily. Introduce content in small pieces so that visitors will want to dig deeper into your site and be willing to read longer paragraphs.
Create a clear navigation structure
Organize page elements in a grid fashion (as opposed to randomly scattered)
Don't be afraid of white space
Avoid clutter!
4. Typography and Fonts
Make sure your website is legible. For easier page scanning, use bullet lists, section headers, and short paragraphs. Use fonts, font sizes and font colors that are easy to read. For 5 website mistakes you don't want to make, click to read this blog.
A good rule of thumb is to never use light colors on light backgrounds for large sections of text. Light color fonts that are too small are difficult for visitors to read. Only use light colors in headers that are a larger font size. The same is true for the reverse. The goal for typography is legibility so there must be adequate contrast between your text and its background color.
Lastly, if your site is an English language-based site, make sure the information flows from left to right and top to bottom.
Getting Your Visitors to Their Ultimate Destination
Good design is the vehicle that will take your visitors to what they're seeking on your site, but ultimately, great content better be your visitor's destination. A well-designed website might convince visitors to take a closer look, but they won't look twice if the content isn't useful and well organized.
Related Read: What You Need to Know About Your Website Content
A visitor's experience must be pleasant but more importantly, effective! They need to be able to find what they need and they find it easily. Visitors who gain confidence in your site are more likely to return. Good design takes great content and makes it work to achieve what you've set out to accomplish on your website.
For more website tips and tricks, we recommend downloading our free e-book, 25 Website Must-Haves. You'll learn more about website design as well as other aspects of your website that can be used to increase the number of leads you can collect through your website.