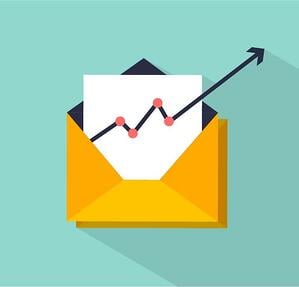 Email continues to be a powerful tool for marketers around the world. In fact it's growing because it's one of the few marketing tactics that can prove a return on investment in marketing. According to the 2014 Email Marketing Industry Census, "email marketing was ranked as the best channel in terms of return on investment, with 68% of companies rating the channel as 'good' or 'excellent'."
This means it's not likely to go away in the near future, no matter what the naysayers think. But all email campaigns are not created equally.
Here are four tips to help you improve your email marketing in 2015:
1) Make sure your emails are going through
Clean up your email lisr by taking a look at your hard bounce rate – the percentage of total emails sent that could not be delivered to the recipient's inbox. These could be due to a fake email address, an address that's no longer active, a domain name that isn't real, or maybe the email recipient's server won't accept emails. All of these reduce your overall email delivery rate which you want to keep at 95% or higher. Clean out these unusable addresses to help you keep your delivery rate as high as possible.
2) Offer options other than a complete unsubscribe
When someone clicks the unsubscribe button, they're not always looking to completely cut ties, they may just want to get information on a different schedule or on a different topic that you offer. Don't try to hide the unsubscribe option in the footer of your emails so that recipients don't feel as though you're trying to trap them in your list. You don't want people on your list who truly aren't interested in your content so if they really want to go, let them.
If they find the unsubscribe link, show them a page with several options for delivery that are different from what they have right now in addition to the complete unsubscribe option. And, remind them of the value you offer such as your free content or give them a special offer with an expiration date that might change their minds.
You're likely to get someone to change their subscription rather than cancel it when other choices and reminders are present.
3) Improve the click through rate
Make them want to click the link in your email by using an obvious call to action such as an "exclusive" discount or free offer.
Also, be sure to use images that support your message. According to HubSpot's Science of Email Marketing report, two-thirds of survey respondents prefer emails that contain mostly images. That means the content in your email should be short, sweet and to the point, using as little text as possible. Just be sure to purchase the rights to the photo from a valid photo resource or you could find yourself on the receiving end of a nasty gram that could cost you more than just purchasing the rights in the first place.
4) Use data to close sales sooner
Use your email lead list to increase revenue by using it to do more than just send emails. Implement inbound marketing software versus a standard mass email program and you can:
Profile your leads by their interests, categorizing them into various campaigns that will send out emails with content that will appeal to each group.
Track their interaction with your emails and social media.
Track their website activity including downloads and pages read.
Send future communications based on what they've shown interest in.
All of these things are done for the ultimate purpose of converting a lead into a customer and then turning customers into your best marketing tactic ever raving fans!
How do you prove what's working? Part of the inbound marketing software includes a closed loop reporting tool that provides data on the results of your campaigns, making it easier to see which campaigns produce revenue. You can even run some tests to see which versions of a campaign will work best.
Learn more about how you can prove the ROI of marketing using inbound marketing software by downloading our free e-book on How to Unlock the ROI of Your Marketing with Analytics.