Companies are sometimes a little hesitant to use social media in B2B healthcare marketing situations. We've heard a few things like:
No one is going to see my post on Facebook.
Twitter is just so overwhelming.
LinkedIn is just for people looking for jobs.
Despite the fact that there's some truth to these statements it doesn't mean you can't use social media for B2B sales, including B2B healthcare marketing. Here are a few ways B2B companies, even those in the healthcare industry, can use social media in a logical way to develop relationships and increase sales.
Using Facebook for Healthcare B2B Marketing
It's true that for the most part only people who already know who you are or are your customers will like your Facebook page. That can feel limiting. But it doesn't mean you can't have a presence on Facebook.
We recommend you take advantage of the relatively low cost Facebook ad platform. You can either boost a post, which works well, or you can create a separate ad which gives you a few more options for presenting information. By paying for some ad space you're able to get noticed by people that you're interested in potentially selling your products or services to.
Does it work? Yes.
Why? Because you're marketing to humans who increasingly mix their work and their home life.
How Do We Know? Setting up an appropriate target audience in Facebook will get your message to the right group of people.
Whether they're flipping through their Facebook feed at work or at home before turning out the lights, they're exposed to things that Facebook has identified as a match to their interests. And don't turn off the ads in the evening. Let them run for a period of time when people have a moment away from their desks and demands of the office to look at something new.
Example: Promo by Slide.ly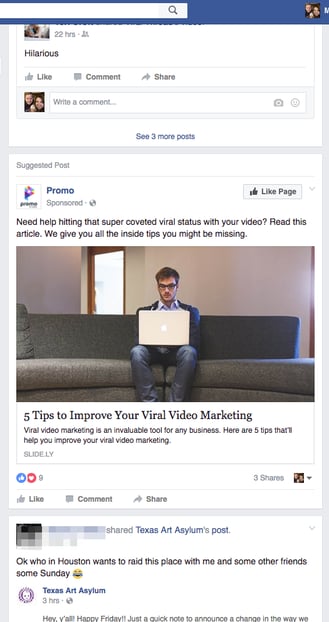 This ad, or another version of it, appeared in my newsfeed on Facebook. It's clearly for a service that will help market a business, but it's in my personal Facebook feed. Brilliant! I had a moment to think about what they were advertising during my personal morning Facebook catch-up process. I clicked, I saw, I bought.
They knew to target me through various key elements of my Facebook profile. By meeting at least one of Promo's ads criteria, the ad appeared in my feed as you see here in my mobile view.
In this scenario I could:
Like their page so that I'll see more of what they post over time.
Click to view their content about Viral Video Marketing. Now they've got me on their website.
Share this "post" with someone on my team that's in charge of social video content.
For just a few cents it's worth it to Promo to get some repeated exposure in my newsfeed and hopefully be interesting enough to result in an action.
How to Use Twitter for B2B HealthCare Sales
Twitter is a good place to interact with people who don't know about you – yet. As suggested earlier it really can be overwhelming to look at everything posted by the accounts you follow. So sifting through content by hashtag keeps the content focused.
Do a little hashtag research before you post your B2B marketing message on Twitter and then use at least one logical one in each tweet. Disclaimer: Don't hashtag something that's not related to your post. You'll lose credibility.
But there are usually a few good ones that will be used by others in your industry. For example, if you're selling EHR software, you could post a tip, tidbit, or share someone else's content but include one of these either in the text or at the end of the post:
There are tools out there that can help with this like the Hubspot inbound marketing software or Hootsuite, but you can even do it on Twitter.com.
Getting Noticed on Linkedin
Something I've found on LinkedIn is that there's more to it than just my newsfeed and profile.
I might use it to research a person or company that I'm considering as a vendor.
I can also find some interesting articles related to what I do.
And I can find groups of people with similar interests.
Groups can be a great way to make an entrance on the LinkedIn scene so that you can gain more followers.
Caution: Do not post an ad for your product or service in a LinkedIn group. That will be a big turn off for most members and can be perceived as an abuse of the privilege of being in the group. You can post things that are more blatantly sales, if you feel you really must, on your own profile. Just don't push it out in a group.
That doesn't mean you can't do any selling in LinkedIn groups. Write content that is applicable to them and will interest that group's members. Then, post it up and start a conversation. Showing that you have their interest in mind and you know what you're talking about will be the start of a good relationship.
If you're trying to figure out how to increase B2B software sales, especially healthcare software, using social media, you just have to put yourself, and your company's social presence in the right places and truly be conversational once the discussion begins on any of these social platforms. You might be interested in this article too: Social Media Planning for Your Business: What, When, Where & How.