Soapbox by Wistia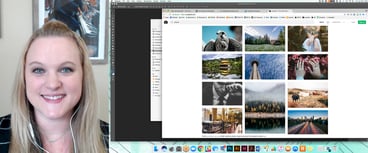 With Soapbox, you can easily create a personalized video to share a presentation or a training session. It's also great when you'd like to do a sales follow up that's highly personalized.
The great thing about this service is the ability to show your screen while your'e talking. Perfect for a demo or a presentation with the audio of your explanation and your face for a more personal touch. All you need to create a Soapbox video is your computer and a webcam! For these types of videos, you're probably going to require sound. But because it's so personalized, the recipient is going to want to hear it.
You can see the end product with this sample that Lindsey created:
Soapbox allows you to edit the screen capture shot, add an intro and an outro. And you have control over when your screen is visible compared to your face, or both.
The Free Plan includes access to all of the tool's features for up to three videos, and they never expire. Wistia also offers a Pro Plan for Soapbox for $99 per month for up to 10 videos and 25 cents per month for each additional video after that.

This may be a good time to talk about video hosting.
If you're still relying on YouTube to house all of your videos consider changing to a service like Wistia or Vidyard. This is recommended for a few reasons:
The content of your video can be transcribed and included in your website content that Google reviews and indexes. This gives YOU, not YouTube, the credit for the video content.

You can customize the video's brand and in some cases show a call-to-action during or at the end of the video.

You'll have stats that go beyond YouTube's information.
Don't get me wrong, you need to place your video on YouTube as well. Just don't make it the primary home for your video. You spent all that time making it. Get the SEO credit for it! These types of video hosting and customization services aren't free, like Soapbox is, but it's something we definitely recommend for companies committed to video as part of their marketing strategy.
Promo or LUMEN 5
Promo by Slidely and Lumen 5 are web-based video creation services that allow you to create videos, especially those silent videos with subtitles, quickly and without the need to pay for stock video in addition to the service.
You also have access the music library, just in case someone decides to listen.
These are great for pretty short videos. 30 seconds or less. And Lumen 5 uses machine learning (AI) to help you optimize the length of the scene, the placement of the text and words that are highlighted.
Promo and Lumen 5 packages start at $49 per month and some packages allow you to upload your own video content to integrate with the tool.
What Video Tool To Use and When
So which process for creating a video might be best for you? Here's a handy chart with suggested ways to use each of the tools.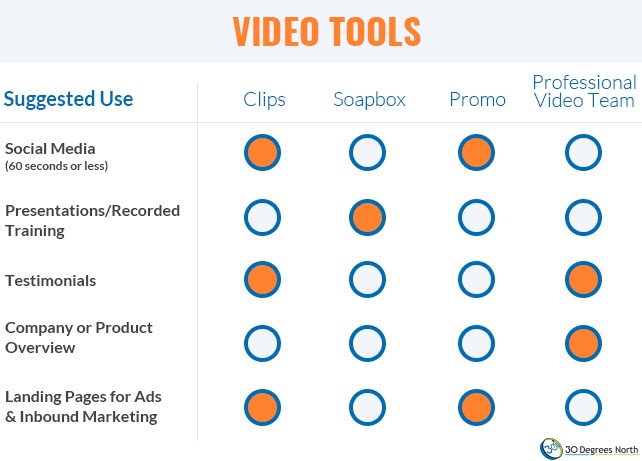 Not matter which type of video you create, be sure you use your branding and a way to reach you. If you're showing the video on your website, don't give them a link to the site they're already on. Give them some other action to take:
Contact Us (with phone and/or link)

Download Now

View the next video in the series
If you're not sure which way to go to get your message across, or you'd like to review your marketing strategy before creating video content, let us know. You'll be sharing lovely video content in no time! And.... ACTION!
Originally published July 2017. Updated January 2019.