Whether you have been in business for years or just starting out, everyone knows that having a web presence is important for any business these days. So if you think you're ready to find a web design team to help you get your website where you want it to be, there are few items you should have ready before getting started.
Picture the scene. As a web designer, you're given the task of creating a beautiful website. Something engaging. Something that the client will love because you know their customers will love it. But where do you start?
Unless your talents are on par with Leonardo Da Vinci or some other incredibly gifted artist, writer or composer, we can all agree that when starting on a project without a plan, it makes success a challenge.
Your website's look and content are out there speaking for you every day, 24/7. Which means it's really important that we get it right.
Here are three things to keep in mind when you know it's time for a new website:
Have a plan
Have a brand
Content! Content! Content!
Have a Plan
Websites serve many different purposes and can be a powerful tool when used effectively. From big companies to start ups, most companies know that having an effective website is a valuable marketing tool. But you can't just push out any old thing. It has to be the right thing for your target market.
When a client comes to us to build them a website, one of the first things we ask is, "Do you have a marketing strategy?" What we mean is: Do you know why you're building a site and what you need to get out of it? Who is your target market? And, do you have tangible goals for what your website needs to produce when it comes to lead generation?
So why does knowing your marketing strategy help designers? A marketing strategy helps us identify the key benefits of a business that we can then feature on the website. Knowing what products a company would like to highlight or what services make them stand out from their competitors, gives us, the designers, some assistance in knowing how to organize a website. Clean web design is our goal, which means we want it to be easy to know what to do next when you arrive. (Read more about clean web design.) Just a few choices is all you really need on the home page, not a firehose of information right off the bat.
From how the homepage content is presented, to how a visitor should navigate the website (see our blog on the importance of simple web navigation), you want to create a clear pathway to your goal: Creating an online lead.
Have a Brand
Little known fact: There is more to branding than having a logo. In fact, a lot more goes into brand management. The logo can provide the designer with a few clues as to the brand, for example, colors and fonts. But logos usually can't tell the whole story.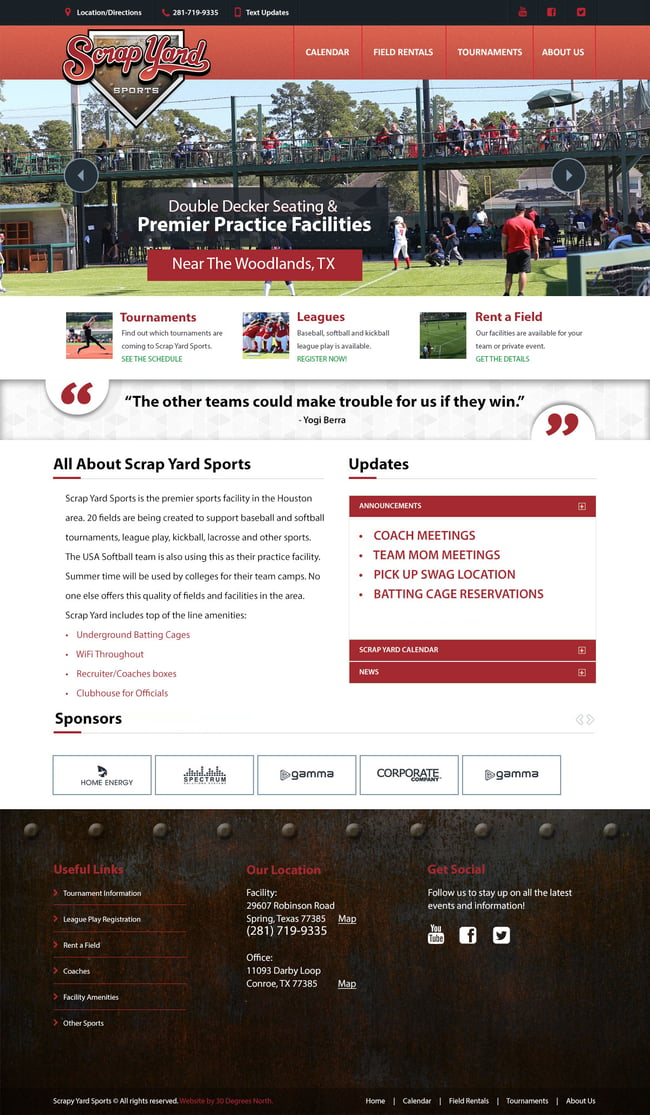 Scrapyard Sports is a good example of a company that had a plan but needed a brand. Once we created the brand, we worked with their content to make a website that fit that brand perfectly.
What makes you different? That is also part of your brand. It's what you want to be known by, in addition to your name. We need to know that and then we need to have an idea of how to represent that graphically with color, photography styles and other elements of design that will communicate well to your target audience.
All of this is really important when trying to design a website that will appeal to the right group.
Content! Content! Content!
Just like a your physical location can make or break your business, your content can make or break your business online. Show that you're an authority on the topics that your business knows best. Plus, Google knows that . So if you want to be found in Google for your areas of expertise, you'll need to show that you're really an expert.
Getting back to website design… the content is critical in how the site will look and what we're going to place throughout the site. Where are we going to send a visitor next in their path through your site? It's very hard to design in a content vacuum. We can always use what is called "Greek-text" or simulate body content made from gibberish, but actually having the correct content will help us, the designers, tell your story more effectively.
How to Get Started
So if you think you're ready to seek help from a design team in getting your website up and running be sure to ask yourself a few questions to make sure you're ready for that next step.
Do I have a marketing strategy? If not… we can help you. But it's important to have that part down before you dig into a website.
Do I have a strong brand that communicates to my primary target market?
Do I have content ready to prove I'm an expert and to make the design process a better experience?
Keeping these three suggestions in mind will not only help speed up the design and build process, but I bet you'll be a lot more pleased with the results!
If you're ready to get started on a website, consider reading our free ebook that gives you even more insight on the 25 must-haves when creating a website to be sure it's working its hardest for you.