Well, you made the decision to work on your website. But after that decision, all you hear are crickets, right? Maybe you have a website, but it's just not working for you. Maybe you are just starting out and need a website to represent you and your company.
You know the importance of having a polished, beautiful website design. It is your brand, your digital storefront, your voice. Customers are going to see it. Potential customers are going to see it. You yearn for professionalism and navigational ease. But how do you communicate all that?
3 Things You Should Know BEFORE You Start Building Your Website
What's the Purpose of This Website?
What's Your Brand?
Create and Provide Relevant, Timely Content.
If you don't know where to start, you are not alone. So to help you get started, start with a plan.
Have a Plan
What's the purpose of your website? Seems simple enough, right? But what exactly do we mean by that?
Having a plan means knowing what this polished, beautiful website is going to do for you and your business. A marketing strategy will help to determine your customer base, how your customers will navigate the website, and how you will react to lead generation.
In order make your plan, first determine your target market. Who will be buying your product or service?Consider who your customer is by looking at demographics, psychographics , as well as purchasing habits of your current or projected customers. Be as accurate as possible and determine:
Age
Gender
Education
Income
Location
Lifestyle
Consumer Habits
Purchasing Habits
What are the goals for your website? The goals might be as simple as increasing orders or order size, increasing website visits, or having more blog engagement. Other goals you may be wanting are inbound leads, quote requests, or phone or contact page inquiries. Maybe you are trying to educate your audience on your particular product or service. You may want to collect email addresses or encourage social media interaction.
Be specific with your goals. Once your goals are defined, it will be much easier for your designer to better represent your company authentically.
Have a Brand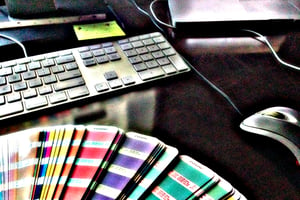 If someone were to ask you, "What is your brand?" would you be able to give them a one sentence answer? When you think of any national brand, a particular vision comes to mind. Your website designer will want to portray your brand in the same way. In order to do this, they will need more than a picture of your logo.
Explain to the designer what your product or service includes and what makes them different from other similar products or services. Be able to offer a description of your personal and company values and your vision for the future. Will you want to be available to a local market only or will you have international sales? And finally, what makes you the expert in your field? Do you have years of experience or were you involved in the product development?
Your logo, of course, is important. But your designer will also want to know what styles or colors to incorporate into your website design. Put yourself into your customers' shoes. Would they be more drawn to bright, vibrant colors or muted, soft tones? Is your company best represented with modern lines and graphics or would something more traditional be a better fit?
By the time that you have decided on designing a website, you should have already checked out your competition. That's okay. In fact, that is more than okay. We are not going to copy it. But by reviewing competitor sites, we can learn more about your style preferences as well as the ways that you are better than the competition, and highlight those parts of your business.
Also, while you were stealthily checking out their site, were there things that you hated? For example, did it take too long to get to the order page? Don't like how their lead collection forms? We can use that info to make your website better for your business.
Content, Content, Content
The third part of designing your website is what content needs to be included. In addition to a simple landing page, it's important that your web visitors find it easy to get to where they need to be. So back when you were deciding on what you were wanting to get out of the website, determine what content will make those goals attainable.
For example, if you want more quote requests, make your "Get a Quote" button readily and easily accessible while making sure to have it stand out.
In the content phase of web design, all of the planning and branding comes together to make the complete website. Using your target audience description, goals, branding, and all of the other things that make you and your business special, you will need to come up with content for your website. It is here that we can determine all of the little extras, the special features that you want to include and how important those are to you.
3 Types of Content for your website
1. Original Content
The ultimate goal of any website is to attract an audience. To do this you must be easily found in the sea of web content already out there. To do this, you'll need to make sure that you are optimizing your website's content. Your content needs to be focused and on-topic. It needs to be written in a way to optimize SEO and engage your customers. It needs to be original and set you apart from all of your competitors.
2. Content Offers
A great way to increase your audience and convert to sales is with content offers. Content offers can be in the shape of e-books, infographics, or any type of educational information that your site visitor can download and refer to later.
3. Blogs
Blogs are a great resource to have on your website because they can draw people in who are seeking answers to questions they may have. They can help you create a following or increase the following that you already have.
Your website is important to you...we get it. By keeping these suggestions in mind, your design and build will be so much easier. We are sure that you will be able to create a website that will show you results. We also have a free guide which walks you through 25 MUST-HAVES for your website, along with 10 things you SHOULD NOT have on your website.
Want to see what we can do for your company website? Contact us today or schedule a free consultation.
Originally published in May 2015. Revised March 2020.