It's no secret that most businesses are trying to grow, and you do that through sales. But getting qualified sales leads can be the toughest part of the process. What if the leads came to you? What if you didn't have to work so hard to pull in leads? Enter inbound marketing. With inbound marketing you'll create content and marketing processes that draw in more visitors who (hopefully) want to become a lead based on what they see and learn while on your website.
But is an inbound marketing strategy right for everyone? Is your business ready? Here are 10 indicators that inbound marketing is a good fit for you.
1. The buyer's decision-making process Typically involves at least some time and research
While inbound marketing gets used in just about every industry, we find that it works best when the decision making process is a little bit longer. Try to create content that addresses the questions you commonly hear or wish your buyers could know. This also works to enhance your SEO.
Decisions that need to be made right now, like choosing where to each lunch or finding an emergency room near you, aren't going to have a long consideration process. That makes inbound a less effective strategy for some businesses. But generally it can be setup to work in some way for most organizations.
2. You wish you could tell interested parties more so they could make an educated decision
Do you ever say, "If we could give a full explanation of why our [insert product or service] is so different, potential buyers wouldn't lump us in with these other companies." Well, here's your chance to explain yourself! Tell the world using blog content. The more content you have on the topics you're trying to rank for organically, the more likely you'll be found!
Note of caution: Present this type of information in a way that makes you helpful, not pushy. An educational approach that is less "sales-y" works well when potential buyers are considering their options.
3. You're Mostly relying on ads (and their cost) to produce website visits
If online ads are driving the majority of visitors to the website you're going to lose that audience as soon as the ads are turned off. There is no long-lasting asset left at the end of a PPC ad campaign like there is after working an inbound strategy for several months.
4. You have a few months for the content development process to generate more leads
If you need results in the next two weeks, then ads are the way to go for the short-term. But with patience, consistency and a good strategy you'll be able to develop content that draws visitors to your website. The #1 most visited blog on our website was written 2 years ago! But that didn't happen overnight.
Be prepared for the Gap of Disappointment during the first six months of the process. Don't get discouraged, the results are on their way—see Month 7!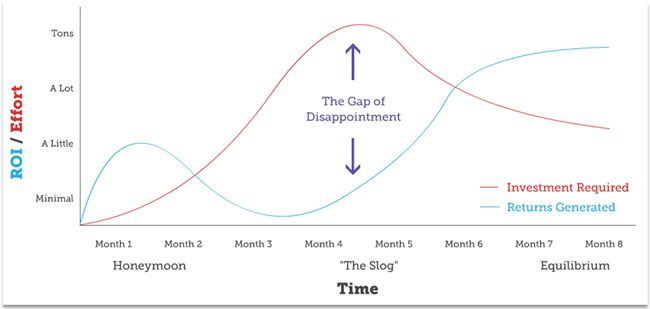 5. you're not embarrassed of Your Website
Your website doesn't need to be perfect. And honestly, it never will be. But you also don't want a website that makes it hard for visitors to find answers to their problem or figure out how to contact your company.
If your website needs serious help we recommend creating your inbound plan first so you can determine what and how to update the website. In some cases a whole new website is needed. There are some great new tools like personalization that could really make a difference in your visitors' experience. Your website updates can be done at the same time you work through the first steps of your inbound marketing plan.
6. You need to prove the ROI of your marketing efforts
We've all been asked as marketers to prove that our efforts are working. PPC ads can sometimes produce a number of leads generated from the campaign and if you have a value tied to a new customer you can determine whether the ads are worth the money.
By using inbound software you'll be able to indicate if/when a lead turns into a customer. From that you can show how you gained the lead, what they did each time they were on the website, what was done to win the sale and the date they became a customer. Yes, some of that has to be entered in by those who are aware of when someone becomes a customer. But it's absolutely worth the effort to have meaningful reports to show the executive team just how well your marketing efforts are working.
If you're not sure how inbound can help you with ROI you may want to read this:

7. You have a budget
We can't stress enough that running an inbound strategy requires not just time, but also money. "Organic" search results aren't typically accidental. They take strategy, time and a budget. A couple months (even 6) won't get you where you need to be with inbound marketing. There are possibly a few ways to baby step up to the full program, but you won't see the same results that you would from going all-in. Plan for a year minimum, but depending on the industry it could take more or less to start producing results you're looking for.
8. You have a plan to follow up on New leads
It's great when inbound marketing starts generating sales leads. If you don't already have a plan, decide how you would like to manage these leads. At what point do you need a sales person to step in? We can help you generate leads all day, but if the buyer needs to speak to a sales person to complete the sale, you'll want to have the sales team trained and ready to go. If you have sales staff or an owner/executive who is committed to handling the new leads and use the inbound software to keep the records updated, then you're good to go!
If you don't have a CRM already, it would be a good time to consider that as well. HubSpot's is free and we recommend it (as well as use it). It will give your sales team a complete insight into the lead's history, activities and interaction in a single system.
9. You have an internal marketing person to lead the inbound marketing program
Inbound marketing needs regular attention. That means you'll need someone at your office who is committed to the details. That might be you. But if it's not, be sure you have someone identified. Even if you're going to work with an agency who will do much of the work there will still be blog and content approvals, reporting reviews, strategy meetings and other items that need your attention to be sure that you're producing results. Typically this is someone in the marketing department but could be sales if there is a sales support team.
10. You're sick of using 3, 4, 5 (or more) different marketing and social media services to get your job done
If you're juggling several platforms for blogging, landing pages, marketing emails and/or social media, you're a prime candidate for using an inbound marketing software platform. It will not only keep all of these functions together, you will have access to other features such as automated marketing services that make it easier to consistently follow up with leads before they are contacted by a sales person—growing the relationship between the lead and your company.
HubSpot's free CRM also gives the sales team insight into all of a lead's activities on the website, phone calls placed, deals, etc.
We have a comparison between HubSpot and SalesForce you may be interested in reading our blog: How HubSpot CRM Won Our Hearts.
Things that you shouldn't worry about:
Does inbound marketing work for B2B and B2C ?
Yes. As long as you're developing personas correctly, understand buying behavior and follow the format for attracting, converting and nurturing leads you're going to be able to produce results.
What if we don't have anything to say in a blog?
We bet you do, you just don't know it yet. If you're not clear on what you'd blog about to gain more visibility in search results, talk with an agency. They can take some time to understand your goals and will create some ideas on what you could do for blogs and downloadable/premium content used to turn visitors into leads.
If you're thinking about inbound and would like an honest opinion about it please schedule a consultation with our team. We want clients to be successful so honesty about whether inbound is a good fit is important to both you and us!