Even though the changes on how backlinks affect SEO rankings happened years ago, We're still finding that many of our clients don't quite understand what they are or how they affect their web rankings. Which is ok!
After all, we are the SEO experts and stay on top of these things so our clients can focus on running their businesses. But when we approach clients with backlink issues, there are two questions that we hear a lot, "What are backlinks?" and "Will they affect my SEO?" Well, I'm here to explain to you exactly what these backlinks are and how they will, in fact, affect your SEO.
What is a Backlink?
A backlink is a web link that links from an external site to your site.
You might have also heard this being referred to as a referring domain, but in reality, you can have 1,000 backlinks coming from 50 referring domains; therefore, it is important not to confuse the two, as they often are.
In the past, any type of backlinking from another site to your site would result in positive SEO results. Then, years ago, the search engines got smart to these shady tactics and have since put a stop to the result being positive. Throughout 2011 and 2012, Google rolled out a series of algorithm updates, named Google Penguin and Google Panda, that focused on bringing high-quality web pages up to the top of the search engine rankings. During these updates, some changes made by Google in order to more effectively rank pages based on backlinks included:
Making sure that websites were avoiding excessive link building
Only linking from relevant websites to their own
These days, those old practices of excessive link building (or link farming) are still around for some reason, and when we run backlink audits, we find results like these below: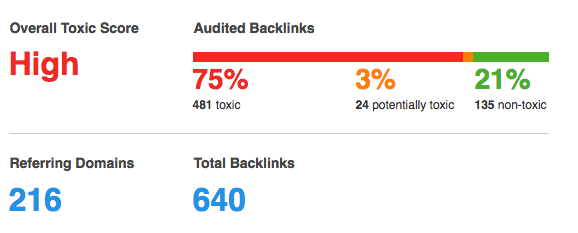 This SEO client was using another vendor for their website maintenance, and as you can see, they directed a significant number of toxic links to his website by using links in low-quality directories and linking from sites that were in different countries (and many times in a different language).
Google wants you to have relevant backlinks from quality sites that are also compatible with the content on your site. To illustrate, if your website is about medical care but you have backlinks listed on a site that is specific to cosmetics, this isn't a backlink that is from a relevant site with content that would be beneficial to the viewer or related to your website.
Do Backlinks Effect SEO Rankings?
We don't, by any means, want to scare you away from backlinking. These days backlinking is important to your SEO strategy, but we suggest that you do it strategically and only with websites that:
Have equal or higher page authority than your site, this includes page ranking
Contain content that is relevant to your website.
Have users that would find the link to your website helpful
Are real, active, and current
The key here is quality over quantity!
Search engines are using backlinks to see if you are an authority on certain subjects; therefore, the more backlinks you have on trusted, authoritative websites the more likely the search engines are to rank your site higher in organic search results. And, by using backlinks from relevant websites you can positively increase your organic ranking, increase the pages that are indexed organically by search engines, and gain good and relevant referral traffic!
Take Control of Your Backlinking Strategy

The key to a good backlinking strategy is not to be sneaky or deceptive in your practices - search engines do not like this (and it will reflect in your rankings) and no quality visits will come from it anyway. And, if any "marketers" tell you different - RUN. Seriously, run fast.
If you believe that your site SEO rankings are being negatively affected by toxic backlinks, you should remove those links at the source, or you can ask Google not to take those into account by disavowing backlinks with Google's tool to disavow links.
If you're not still sure if toxic backlinks are negatively affecting your website or you'd like an expert to review your marketing strategy, we are happy to talk with you.