Anyone that calls themselves an SEO expert should be staying current about the latest developments in Google's search algorithms that impact SEO rankings. Here, we have noticed that while SEO is a familiar acronym to all of our clients, they are not aware of the term "backlinks" and the impact that backlinks can have on their SEO rankings. And, related terms like "referring domains", "linkfarms", "earned links", and "backlink audits" are also unknown to our clients. Read on to understand these terms and their relevance to the SEO ranking of a website.
In the interest of familiarizing the reader with more search engine terminology, we will use SERP (Search Engine Results Page) rank, PageRank and SEO rank interchangeably in this article even though there are subtle differences between them.
What is a Backlink?
Backlinks are web links that links from an external site to your site.
*Note: You might have also heard backlinks being referred to as a referring domain, but in reality, you can have 1,000 backlinks coming from 50 referring domains. Referring domains are external sites that link to your site. Since these external sites, i.e. referring domains, can each have multiple links to your site, there are often a lot more backlinks than referring domains. Therefore, it is important not to confuse the two, as they often are.
Backlinks are one of the variables that Google's search algorithms use to calculate the SEO rank of a website. At a high level, the Google algorithm counts backlinks as votes for ranking a site. More backlinks mean more votes though all backlinks are not considered equal; those from authoritative sites have more weight than the backlinks from trivial sites.
ALL Backlinks Are NOT CREATED EQUAL
Linkfarms are a group of websites that link to each other. Google algorithms consider the links between the member sites of a linkfarm as poor quality links; so these links reduce, rather than improve, the SEO ranking of linkfarm's member sites.
In the past, any type of backlinking (such as linkfarms) from another site to your site would result in positive SEO results. Then, years ago, the search engines got smart to these shady tactics and have since put a stop to the result being positive.
Now, the number of high-quality backlinks is an important factor in determining the SERP rank of a website. Each good quality backlink to a site is used as a vote for determining the SERP rank, also called PageRank, of that site. In the early years of Google, sites were able to improve their PageRank by using low quality and self-made links. But Google caught on to what is going on and released several algorithms over the years to improve the quality of the search results. These algorithms were code-named Google Panda, Google Penguin, and Google Hummingbird, and during these updates, some changes made by Google in order to more effectively rank pages based on backlinks.
Google Panda: The Google Panda algorithm was rolled out in 2011. As the Google webmaster blog on Guidance on Building High Quality Sites states, Panda was about the quality of a site's contents rather than the quantity or quality of its backlinks.
Google Penguin: Google introduced the Penguin algorithm in 2012 to reduce the SERP ranking of sites that used "unnatural" backlinks for getting a higher ranking on the SERP. This Google support article on link schemes defines unnatural backlinks as those which were not "editorially placed or vouched for by the site's owner". That support article also lists several examples of unnatural links. As a rule of thumb, unnatural links are self-made links, i.e., internal references, as opposed to earned links which are legitimate references to your site from external sites. Penguin was incorporated into Google's core algorithm in 2016.
Google Hummingbird: The algorithm codenamed Hummingbird was released in 2013 to improve the relevance of search results for a user query. Though it did not explicitly deal with how backlinks affect SERP ranking, Hummingbird caused a drop in the SERP ranking and web traffic of many sites, similar to the drops that sites experienced after the Panda and Penguin releases.
Google February 1, 2017 update: This was a minor and unconfirmed Google update. Although all information about this update is more speculation than fact, it seemed to target private blog networks or those doing spammy link building.
backlinks in action
These days, those old practices of excessive link building (or link farming) are still around for some reason, and when we run backlink audits, we find results like these below: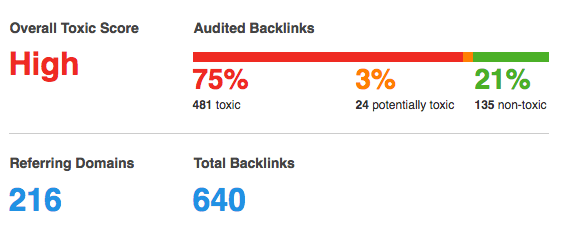 This SEO client was using another vendor for their website maintenance, and as you can see, they directed a significant number of toxic links to his website by using links in low-quality directories and linking from sites that were in different countries (and many times in a different language).
Google wants you to have relevant backlinks from quality sites that are also compatible with the content on your site. To illustrate, if your website is about medical care but you have backlinks listed on a site that is specific to cosmetics, this isn't a backlink that is from a relevant site with content that would be beneficial to the viewer or related to your website.
Do Backlinks Effect SEO Rankings?
We don't, by any means, want to scare you away from backlinking. These days backlinking is important to your SEO strategy, but we suggest that you do it strategically and only with high-quality websites.
What are high-quality backlinks?
Google algorithms have evolved to stress quality over quantity of backlinks in SEO calculations. So it helps to be aware of what Google considers as high-quality backlinks. There are several factors that improve the quality of a backlink. Some of these are:
The external sites that provide the backlinks must be active, current, and real.
Moreover, the content of the external site must be relevant and compatible with your site.
If the users of the external site would find the link to your website helpful, then that backlink is a high-quality one.
Backlinks from trusted, authoritative websites are of high quality. Authoritative sites are well-recognized ones like MIT.edu, CDC.gov, and GitHub.com. To be a trusted one, a website must have high-quality content and refrain from disreputable practices like selling links.
If the external site has a higher PageRank than your website, the backlink from that site has greater weight in SEO ranking calculations.
Search engines are using backlinks to see if you are an authority on certain subjects; therefore, the more backlinks you have on trusted, authoritative websites the more likely the search engines are to rank your site higher in organic search results. And, by using backlinks from relevant websites you can positively increase your organic ranking, increase the pages that are indexed organically by search engines, and gain good and relevant referral traffic!
Take Control of Your Backlinking Strategy

The key to a good backlinking strategy is not to be sneaky or deceptive in your practices - search engines do not like this (and it will reflect in your rankings) and no quality visits will come from it anyway. And, if any "marketers" tell you different - RUN. Seriously, run fast.
If you have experienced a drop in your SERP ranking due to , there are a few steps you can take to bring it back up.
If you're not sure whether your website's SEO rank fell because of poor quality backlinks, or if you lack the resources to take remedial action, getting help from an SEO expert will be a good investment. 30 Degrees North helps its clients improve the SEO ranks of their websites. We start our engagement with a free consultation to assess the fit between our skills and the client's needs. Get in touch with us to discuss how we can help you.
If you are looking for other tips and website 'must haves' download our free guide. This guide include 25 must haves for your website, and 10 things to avoid putting on your website!
Originally published July 2017. Revised March 2020.