Working from home these days? Are you wondering how you're going to do this, day in and day out for weeks on end without going a little stir crazy? Even if you do work from home on a regular basis, knowing that you can't interact live with your co-workers or even groups of friends can take a toll on your mental well being. And... for us extroverts... it can almost be maddening. I'm writing this today for you just as much as I'm writing it to remind myself of all the things I've learned over the years.
But before I go too far, I want everyone who can work from home to keep the bright side in mind. We have regularly paying jobs for the foreseeable future that allow us to help protect others and ourselves. It's something I'm very thankful for! However, that positive note may not be enough to get through the next month or two without cabin fever. I've collected some tips from my own experiences that can help you feel better and work better – from home.
Work from home tips for better mental health
Even though I'm your typical marketing extrovert, I worked from home for several years (before it was as common as it is today) while my daughters were young, and still do it quite often during the summer months. Some of these may seem obvious and others may not.
1. Stick to a routine - If you got up at 6 am and went to bed at 10 pm before the pandemic, do it now. Even though your kids aren't heading out to school first thing in the morning or you can't get in your BodyPump class because the gym is closed, you can still do something with that time. Read, listen to a podcast, do some yoga, go for a walk – whatever works for you so that you're keeping your sleeping schedule intact. That goes for bedtime too. Sleep is a miracle worker. And not getting enough can degrade your mental well-being very quickly.
2. Get ready for work like you were going to the office - The running joke has always been that people who work from home are in their jammies all day. Not true. And not good for your mental health. Get showered, do your hair, shave (if that's part of what you do every day or two), put on makeup (again -- if you're into that), and get dressed in something that would be suitable for work. You can probably leave the dry clean only outfits in the closet for now, but consider how you'd look if you were to turn on your web cam (more on work from home technologies later).
3. Avoid the news distraction - Watching the news, or even listening to it in the background all day isn't going to help your mental state. This also goes for Facebook, Twitter and other sources people use for news. Keep it to a few short minutes in the morning and then turn it off or close the app. If you listen to music at your desk at work, do it at home. But don't bog yourself into the minutia of what every city and country around the globe is doing. You have work to do. You can catch up on the news later.
4. Step outside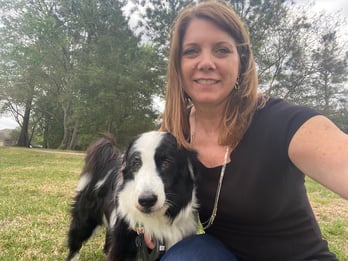 Even if you went for a walk or did something else outdoorsy with your morning free time, be sure you get outside a few times during the day just to get fresh air and feel the sun on your face. My dog Marley sure is happy to see us all day. And I'm happy to take him on some quick walks.
It's refreshing and you need to get up and move now and then, especially if you've got your Apple Watch monitoring your activity. With no co-worker distractions at home, I have a tendency to park it in my chair for far longer than I would at the office.
5. Walk away - Because it's super convenient to just keep working at home, be sure you walk away at the end of the day. Close a door to the room, if you can. I know some people are literally working from their dining room table or bedrooms because space gets tight when everyone is home! But even if you can't close the door, put the computer away. This is important so you can shift your focus back to family and friends. Call someone... weird, I know... but hearing their voice can really pick you up.
Work from home tips for better productivity
Now let's talk about how you actually get things done while working from home. You may be new to this or you're a pro. Either way I hope that some of these things can help you and your team with communicating and getting work done while you're social distancing.
1. Have a clean space to work - Yes, I mean be sure you wipe it down with a cleaner in the morning and the evening (keyboard, mouse, arms of your chair, etc.). But also try to keep the clutter out of your line of vision. Here's what I've got going on in front of me... and here's what's behind me.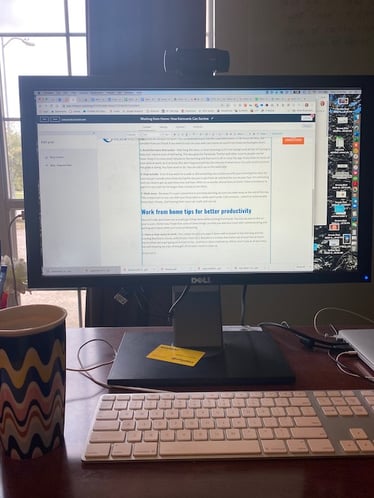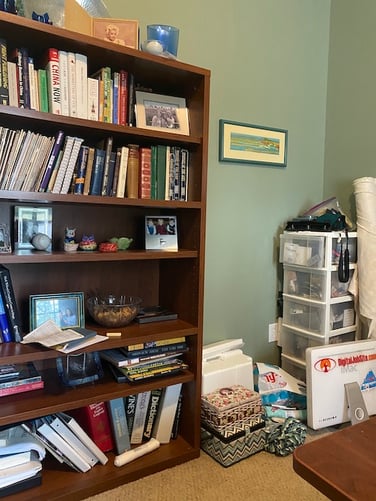 What I don't look at all day helps me with keeping my train of thought off of what I need to clean up.
2. Use a web meeting service with video - We use Zoom and like it quite a bit (our reasons for liking Zoom could literally be its own blog). They have a free version. Some people use Google Hangouts for their web meetings.
Here's the trick to making this help with feeling more in touch with other people: turn on the video camera. Put that primping you did in the morning to use! Try to look into the camera rather than look at yourself on the screen. It seems weird at first but makes it better for the person on the other end. Pretend they are in front of you and talk to that camera like you would if they were there.
NOTE: Web cams were getting snatched up pretty quickly the other day when we checked for one of our staff members who didn't have one. Remember that most laptops have one built in. Now is the time to take the tape off of the lens and use it. You can put your post-it back over the camera if you'd like between meetings, but take advantage of the camera as much as you can. It makes others feel better and you'll feel better about seeing the person on the other end too.
3. Keep up the chatter - I'm not saying goof off all day. But be sure you have a digital communication system in place that lets you chat back and forth with individuals and teams. We use Slack – whether we're in the office or not. (Again, they have a free version which is what we use). We do use it for client-specific discussions, but it's also helpful to use for some interoffice chatter about the random things we talk about during a day when we're together. Start a Water Cooler channel. We call ours the Random channel. Just have somewhere you can post those funny things you see on Facebook or Twitter. Keep it light. This isn't time to be the Debbie Downer of the group.
I mean... you've gotta keep laughing so you don't cry sometimes, like this conversation in our Random channel last week.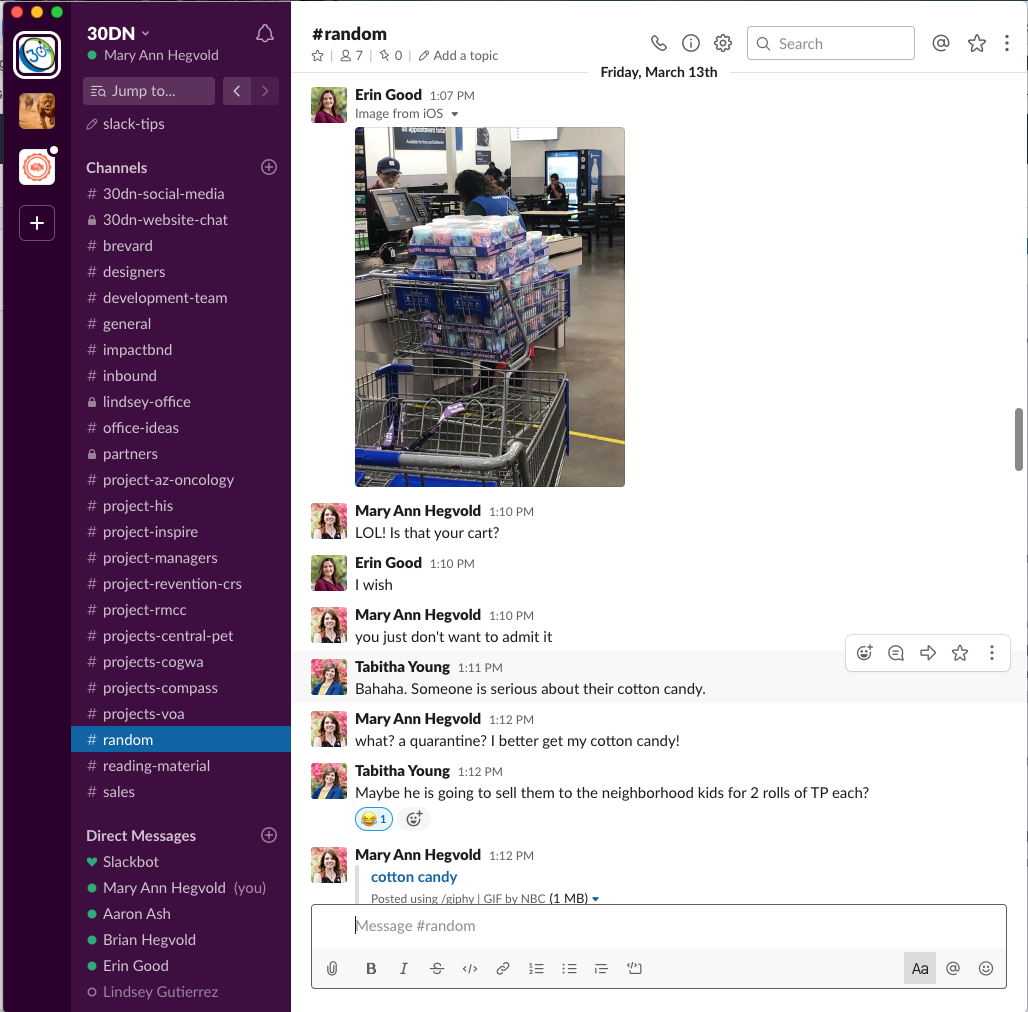 4. Try video emails - By now you've probably received about 1,000 emails from companies you interact with giving a long text explanation of what they're doing. What if you did that in a video? That's what we did.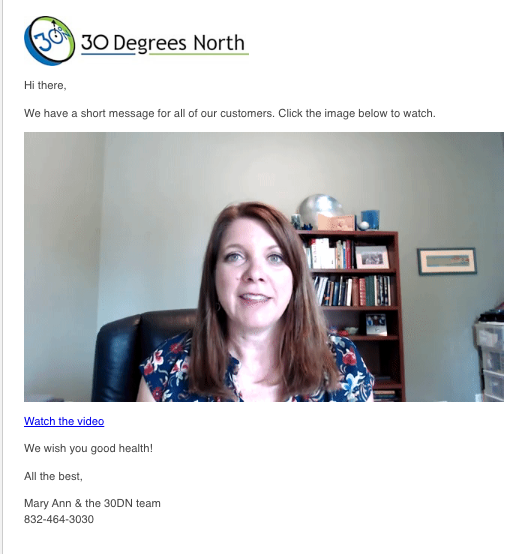 Use those cameras for even more than video meetings. This can be especially powerful for your sales team right now! But anyone on your team can do it to give a more personal interaction to the work you're doing.
Or, what if you just sent some video emails to those you might normally see live? Give it a try. You don't need a script. You were going to write it out... just talk it out instead. To do this you need the web cam and some software. Vidyard is a favorite of ours. They have a free version, but if you like the tools, it may be worth paying for all the bells and whistles.
We're here to help
I hope that you might find at least some of these tips helpful whether you're a work from home vet or a newbie. And we're here to talk you through how to use the tools, if you'd like. We'll set up a Zoom meeting and turn our web cams on so we can chat with you like you we're sitting together in our living rooms (or dining rooms, or wherever I'm able to find space that you can't hear my kids ... too much).
So remember... remain calm and carry on... just in a slightly different way so that we can come out of this as quickly and as healthy as possible.