The acronym SERP stands for Search Engine Results Page. Understanding the anatomy of SERPs is essential for successful online marketing. Competition is fierce among search engine optimization specialists and PPC advertisers, vying for prime SERP real estate. Learn more about SERP and its importance in online marketing below.
What is a SERP?
Google receives thousands of search queries every second. The page displayed in response to a search query is known as a search engine results page or a SERP. When producing a SERP in response to a search query, Google takes into account a number of factors. Some of the primary factors Google takes into consideration are the account's location and IP Addresses' past browsing history. A number of different relevant results will be displayed on a SERP.
For digital marketers, it is very important that their marketing content ranks high on a search engine results page. After all, it could be what makes or breaks your inbound marketing efforts.
Why is it Important to Understand the Anatomy of the SERP?
SERP is essential to digital marketers as the higher a company's website ranks on a SERP, the more likely it is that their website will receive higher traffic. The more clicks a company's website receives, the more exposure and sales the company is likely to gain. However, it can be challenging to separate your website from the rest.
To stand out amongst your competitors, you want your website to reach Rank 0. The Rank 0 is the highest-ranking on SERPs. If your website achieves the Rank 0, it will be the first result searchers see on a SERP. There is a lot to understand when it comes to understanding SERPs. However, the only way to become successful in digital marketing is to understand the anatomy of the SERP.
What Makes Up the SERP?
SERPs display two main types of content, organic results and paid ads. In addition to organic search results and paid advertisements, there are also featured snippets, local map results, and related searches that are displayed on a SERP.
Organic Results
SERPs display a combination of both organic and paid results. Organic search results appear on a SERP as a result of the search engine's internal algorithm. While not directly paid for, search engine optimization or SEO specialists are typically hired to optimize a website's content in order for it to rank higher in organic search results.
In general, organic search results will take up more of a SERP than paid results will. However, all of this is due to the intent of the search. In Internet searches, there are three primary types. These types are informational, navigational, and transactional. Informational searches have very low commercial intent as the majority of searchers are only looking for information on a topic, not to buy something. In navigational searches, a searcher is looking to locate a specific website through their search. The final type of search is known as a transactional search. Transactional searches are the most likely to display paid results on the SERP as these types of searches have high commercial intent.
Paid Ads
The second main type of content on a SERP is paid results. Paid ad results are the search results that have been paid for by an advertiser to be displayed on the SERP. There is a wide range of forms that paid results can take, as there are dozens of advertising formats available. Some paid results on a SERP are PPC ads, while others are ad extensions that encourage prospective customers to visit a specific website. PPC ads are usually distinguished by a yellow "Ads" flag above them.
Paid search is important to serious online marketers. However, organic search results play the most significant role in website ranking over time. Digital marketers must place significant importance on creating a long-term strategy when it comes to organic search results. Overall, both types of results are important in the digital marketing world. In the grand scheme of digital marketing, paid results bring short-term benefits, and organic results reap long-term benefits when it comes to digital marketing.
Featured Snippets
Along with organic search results and paid ads, a SERP will also show featured snippets. The featured snippet is also referred to as the answer box. Essentially, featured snippets show a snippet of content from one of the most relevant top-ranking web pages. Google generally pulls snippets from the top five results, and featured snippets are generally located at the top of a SERP. The common format of snippets is either paragraph, list, or table style. A featured snippet can also be a video, most likely a YouTube video that is relevant to the search query.
Still kind of confused? Below you'll find a visual example of a real-life Google SERP.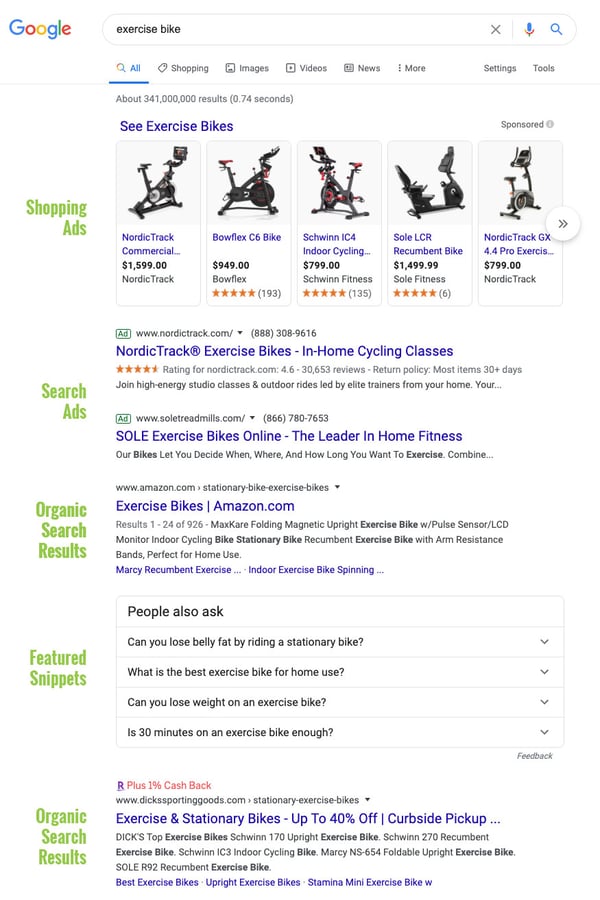 For a higher likely hold of ranking in one of Google's featured snippets, follow these tips:
Research your competitors' featured snippets
Utilize Google to discover potential snippet opportunities
Do your keyword research
Stay within the optimal snippet word count (between 40-50 words)
Utilize headers to break up content
Utilize high-quality images and video content
Create in-depth content that helps people
Keywords are Important
Keywords are also important when it comes to featured snippets. Below are some of the top searched keywords that result in becoming part of a featured snippet.
| | | |
| --- | --- | --- |
| recipe | price | review |
| best | chicken | many |
| vs. | iPhone | name |
| make | list | long |
| definition | much | code |
| can | new | schedule |
| windows | phone | reviews |
| get | top | change |
| cost | salary | size |
| meaning | time | number |
Understanding the SERP is the First Step to Higher Rankings
Hopefully, you now understand more about the anatomy of a Search Engine Results Page and why ranking high on a SERP is so vital to your website's digital marketing success.
At 30 Degrees North, we know it can be easy to get overwhelmed as you start your venture in the digital marketing process. If you have more questions about SERPs or digital marketing in general, we are here to help. As leaders in the online marketing industry, we offer a number of SEO and digital marketing services. Feel free to contact us today to schedule a free consultation or to ask any questions you may have.