Live chat and bots are becoming an essential part of a website. And, you may find yourself asking, "Should I use a live chat feature or bots? Are either really necessary? What's the difference between a bot and live chat?" Not to worry, many other businesses with an online presence are wrestling with this decision at this very moment.
The discussion among team members concerning the use of live chat or bots makes for an enlightening conversation. Don't believe me? Just try it... Everyone has an opinion, and you'll find many of those opinions are based on inaccurate information.
Much has been researched and studied concerning both forms of consumer/business communication, and the information gathered is helpful. We think the best way to decide which customer service tool is best for your business is to secure a personal and well-thought-out evaluation of the way each of them works.
Chatbots
Bots use artificial intelligence (AI) to predict what someone needs based on a pre-set package of questions. Then content is prepared to answer the pre-arranged questions and answers and is presented to the visitor based on how they interact with your bot.
This is probably the #1 most common type of AI used on websites. We're all familiar with "chat" usually found in the bottom right corner of a website.
It used to be a live chat only opportunity. However, today more and more companies are replacing the first touch on their website with a chatbot.
It's not a perfect system, but it reduces the need for a person to be sitting on the other end of the chat requests 24/7, which for some businesses could be more than a single person would be able to handle effectively.
Convenient
Bots are available for 24-hour, 7-days a week service with no on-site staff necessary.
instant Response
Chatbots can respond to users' needs instantly and in a concise and relevant manner.
FAQs answered quickly
Once a business has pre-programmed the answers to most frequently asked questions, the bot can answer simple questions that keep the user interested and, hopefully, retained and converted into leads.
High Volume Support
A chatbot can handle a high volume of requests quickly. Customers who find it difficult to reach a company are likely to feel neglected. Installing a bot on your website can keep that from happening.
Improved Customer Service
The customer service team can avoid being overwhelmed when an unusually high influx of calls occurs. Having a bot around can lower the stress for those in customer service, especially for issues that can easily be handled by sending visitors to your pre-existing knowledge base.
breakdown Language Barriers
Chatbots are multi-lingual! No need for a translator who can speak five or six languages - the bot has you covered.
Bot Setbacks
From time to time, the user cannot get an answer. Setback cannot be caused because the bot:
Did not have a pre-existing path set for the user's question.
Was thrown off due to spelling or grammatical errors.
Simply lacks human emotion or understanding.
When this occurs, however, it is possible to have the bot gather the customer's contact information in order to have an actual human reach out to them in order to solve their issues. Alternately, the company can choose to switch the user from a bot to live chat so they can get the assistance he or she needs in the same chat session.
Still, a chatbot does reduce the need for a person sitting on the other end of the chat requests. But, for most enterprises, more than one human would be needed to handle these communications effectively. When a customer is ready to speak to a live person, your bot can connect him or her to a live agent.
Live Chat
Live chat is a system that allows you and your employees to connect to your website visitors while they are on your site.
Live chat does require an actual person on the other end of the conversation. (Think: AOL Instant Messenger!) However, it allows the visitor to type anything they'd like to ask into the field and get a specific, personalized response. Bots aren't able to do that… yet.
When a company interacts instantaneously with a potential or current customer, that person is experiencing your business on a personal level. This communication style is an excellent way to communicate with your customers, and often leads to:
Increased Sales and Conversions
You are likely to achieve increased sales and conversions because you are not dependent on having the customer call you back or fill out a form. Your potential customers provide everything you need to know about them by using live chat, and customers will be happy not be directed to fill out a form or call your 800-number.
Improved Customer Support
Everyone has experienced the agonizing wait period endured when they complete a 'Contact Us' form on a website. The result is a long, dreary delay. Today, customers will not put up with extended lag-times. The communication process between a business and its customers is expected to be fast, thorough, and worth it.
Live chat has a human speaking directly to the customer!
Related Read: What is Artificial Intelligence and How Can it Improve Your Sales and Customer Satisfaction Scores?
Increased Customer Trust and Loyalty
Every time a business comes across to the public as helpful and attentive, customer loyalty increases. An enterprise that is friendly, efficient, and interested gives customers a feeling of trust in the business.
Convenience for Customers
Millennials and Gen-Zers play by different rules than the previous generations. We (Millennial here 🙋) want answers on-demand.
Hey, it's not our fault... we've been conditioned.
Some call it the "Amazon Effect," but it is what modern consumers expect from top-tier brands.
Speedy Problem Resolution
Live chat is immediate (to a certain extent). Therefore, when a customer looking for a resolution, it can occur quickly.
Nearly 80% of people will use a chat function if it offered. And, about 45% of consumers say that live chat is the most critical customer service that companies can offer.
**Note: If your users are waiting 5+ minutes before they are getting to chat with a live person on your website, you NEED to re-evaluate your staffing and/or chat processes.
Competitive Advantages
Businesses can create a competitive advantage through the use of live chat in these ways:
Your customer wait times will decrease. They don't have to submit a form online and wait 24-48 business hours for a response.
Personalization is a powerful tool. Customers prefer businesses that treat them as individuals.
An immediate, human interaction can take place with little-to-no wait time on the users part.
Cost Efficiency
When live chat is a part of your business' platform, operating costs based on support, sales, and marketing may reduce. Live chat can also increase your top-line revenue.
Now that the Internet is so accessible and ubiquitous globally, companies see that they are saving money by using live chat. A 2018 survey from Bold 360 found that 71% of survey participants believe that live chat will surpass traditional customer service communication channels by 2021.
Live Chat Setbacks
The challenge for live chat is that people-power is required if the experience is to be successful.
The challenge with live chat can be the people-power required for it to be a good experience. If the tool on your website only collects a name and email address so you can contact the person later, the experience for your users won't be as helpful or significant as they had hoped. That chips away at what they think about your company.
At that point, the visitor is likely to leave your site and travel to another source. There's not much worse in the business world than losing a lead because your live chat did not have appropriate staffing. Likely, a live customer service agent would only be available during work hours, and the support team may be limited in their language choices
The delay of human response could occur due to a lack of staffing or customer service overload. Also, if a customer has a specific request, he or she may have to wait based on the number of customer service reps who are on live chat.
What's the Best Solution?
Here's a thought. What about using live chat and Chatbots simultaneously?
Yes, you read that correctly. As the website manager, you can choose the path that people will go down based on their interactions. But it doesn't require a live person on the other end of every chat request to be helpful and give visitors content they're interested in.
At some point, the visitor may be ready to talk to a live person. And, your bot can then connect over to a live agent who can talk with them. When your business has both systems, you will have the benefits of:
24/7 availability
Instant answers for your visitors
Seamless solutions from where the bot ends its service to the live chat that can take over from there
Visitors can even be switched from chatbot to live chat, and vice versa, as they journey through their unique experience
Both systems can share the company's knowledge base
Get Started
Bottom Line: Start implementing some bot and/or live chat options on your website!
The best thing to do is just start! Plus, we've made it super easy to reference with the infographic provided below. Click the link below the infographic to download it and share!
---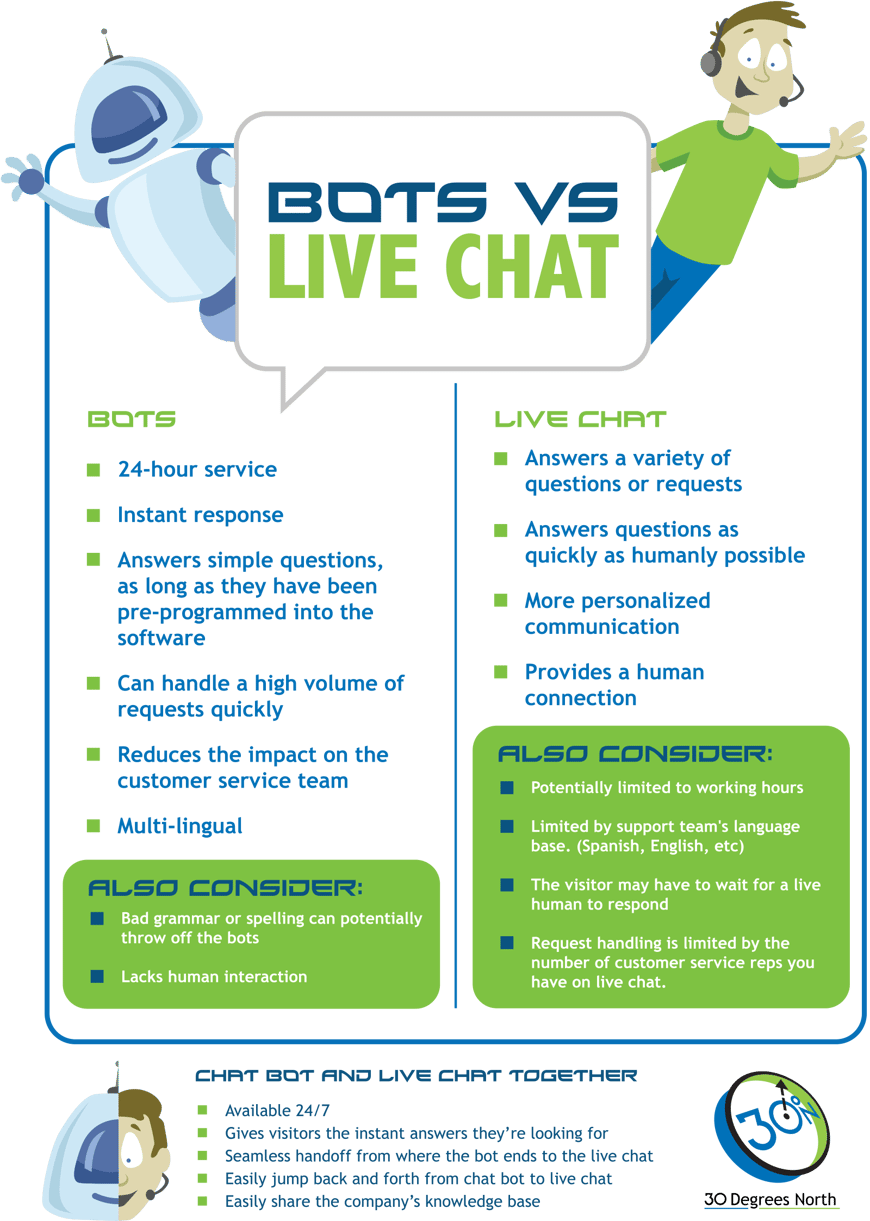 ---