Using a CRM (customer relationship management) system for managing leads and customers is something that just about every business needs. With all of the advances of the free HubSpot CRM, we're often asked if it can be a good alternative to Salesforce.
When HubSpot introduced the first version of its free CRM in 2014, it was a solid product, but there were some features, especially those used by larger sales teams, that weren't available yet. As of 2019, the HubSpot CRM has added these advanced features and now offers capabilities that make the choice of the HubSpot CRM over Salesforce seem obvious. Here are five features that make it easy for us to recommend the HubSpot CRM over Salesforce for just about any organization.
5 Features that make HubSpot CRM better than Salesforce
---
1) Defining the Contact Isn't Complicated in HubSpot CRM
When someone is added to the CRM database in HubSpot, they are a contact who is assigned a lifecycle stage such as "lead" or "opportunity." If/when this person becomes a customer, there is just a field that is adjusted. In Salesforce, you have to choose how you're going to handle using the leads and contacts features. There isn't a big decision to make in HubSpot CRM other than what should trigger changing someone's lifecycle stage. There's little risk of ending up with someone who is a contact and a lead, and being treated as both as you can easily do in Salesforce.
2) Customization is Easy in HubSpot CRM
Both Salesforce and HubSpot allow you to add custom fields. But the process in Salesforce is more complex, requiring you to first choose whether the field applies to leads or contacts, and then either knowing how to create it or finding someone who does. Often you'll have to create the same field for both leads and contacts and figure out how to make it appear for your use.
HubSpot CRM allows custom fields to be created for an individual, a company or for a deal. Do it once, and without technical training required, then your entire team can use it.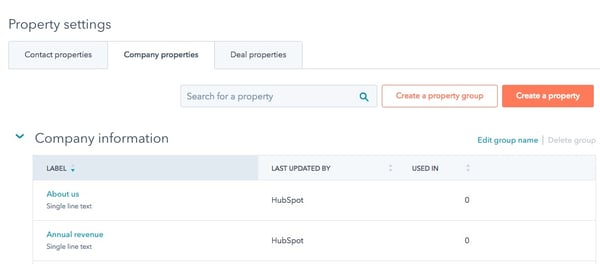 You can use any of the custom fields to quickly filter contacts or companies. You don't need to have any special coding knowledge to do this either. We filter contacts often to get a general idea of how many people are in various subsets that we may be interested in targeting.
Tip: Save commonly used filters for your entire team to share.
While filtering is possible in Salesforce, you may need an expert (read: developer) to make the changes. And in most cases, that's not something you'll accomplish quickly so that you can use the results in your decision making process about how to go forward with your next campaign or other sales activity.
For us, we find that the HubSpot CRM empowers us, as the marketers or sales people, to do our own analysis and assessments as part of the strategy on what to do next.
3) Unparalleled Insight Using HubSpot CRM
There is a lot of data packed into an individual's HubSpot record that can be used in several ways.
A) Back to Those Filters. You can quickly use a standard HubSpot filter to see how many people have been to your website, what they looked at first or looked at last, how many times they have come back, which forms they completed, etc. This is not an easy feat in Salesforce. It's possible, but again requires an app and most likely a developer.
B) Marketing Activity that Better Supports Sales Initiatives. If your marketing team is using inbound marketing, or is considering it, HubSpot makes it very simple for to get started with the Marketing Hub and use the data that's in the CRM to make educated decisions. That's because the CRM record is the starting point for all of the HubSpot tools: Marketing, Sales and Service Hubs. They all tie together and they're all made by HubSpot. With Salesforce you'll need to identify various other services or apps to be integrated by a third-party consultant.
While you can also hire a HubSpot consultant to help you get everything set up, it's not required as it is with Salesforce, especially if you're considering Pardot for marketing automation.
Once the marketing team has activated the Marketing tools (starting at $0/month), the HubSpot CRM allows them to:
Create campaigns that include nurturing workflows to help potential customers solve their problems based on data about their visits to the website as well as individual interaction information available in the CRM.
Generate new content that will help to answer the questions that visitors are trying to answer by visiting your website – whether they're just starting out or they're further along in the buyer's journey.
Use data to assess opportunities for up-selling existing customers.
C) Enable Sales to Use the Inbound Sales Method. Sales will review the information in the contact record as part of the inbound sales method. They are given all activity in one place, including web activity, emails sent and opened, past notes or calls, and customer service activity that's been conducted through the Service Hub. This is critical for the sales team to use the inbound sales method that caters the sales process to the opportunity's needs.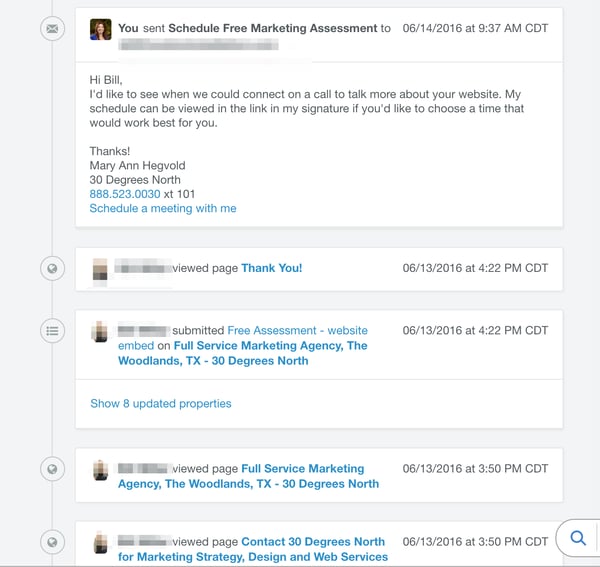 4) Advanced Tools for Sales Professionals
HubSpot's mantra seems to be offering a large number of their tools for free. The entire HubSpot CRM is free. All of it. There are a lot of things you can do without any additional tools. However, if you're looking to do some advanced things that you might also see in Salesforce, there are now on-par features of the HubSpot CRM.
Without any additional fees, you can use the Sales Hub tools along with the HubSpot CRM. There are some advanced features here that aren't free with other CRMs, including:
Track when someone has opened your email – without the annoying read receipt.
Run a live chat feature that allows website visitors to talk to your sales team. (Don't worry, you can set up auto responses for weekends and off-hours.)
Artificial intelligence in the form of bots that will allow you to direct leads to the right content or to an interaction with the sales team.
Use email templates that make it easier to send out prospecting emails, follow up emails and other sales communications without having to recreate the wheel every time.
Store documents that you can link to. This allows you to know when prospects have viewed your documents.

Record calls - Up to 15 minutes of calling per user per month.

Gmail and outlook integration so you don't have to go to the CRM all the time to have your email conversations tracked.
And there are the typical CRM tools that include deals, tasks, etc.
At some point your sales team may need the sophistication of additional tools such as quotes and quote approval, multiple deal pipelines, more customizable bots, Zoom or GotoMeeting web meeting integrations, and 1:1 video integration. You can then upgrade to a paid plan per person or for a team to add these things.

While several of these features are available for Salesforce, each one requires integration and a consultant to get them added into your Salesforce installation. Again, as marketers and sales people, it's great to have the power to get these things done on our own in the HubSpot CRM.
5) HubSpot CRM reporting is easy - and attractive
A customizable Sales Dashboard makes it easy for you to share the highlights of what has been happening within the sales team. Have it emailed to yourself or your executive team as needed for everyone to know what's going on.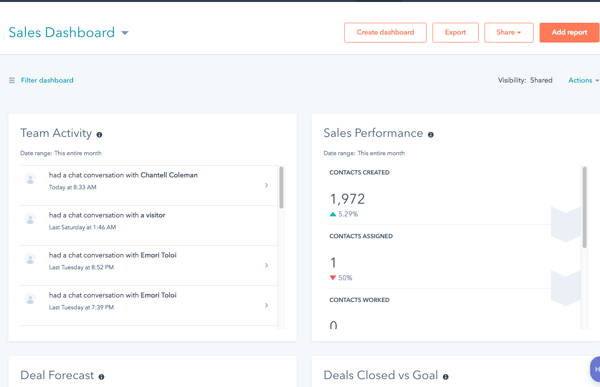 You can also easily view the Deals Pipeline and sort by what you need to see.
How to Get Started with HubSpot CRM
The full featured CRM and the online training are free. You don't have to use any other HubSpot software to get it at no cost. You can sign up right now and start using it in the next 10 minutes - It's really that simple.
If you're already using Salesforce, or another CRM, it can be relatively easy to make the switch. We can help you assess which HubSpot tools you may need and do an apples to apples comparison of the two CRMs to see if it would improve your marketing and sales functionality – and possibly also save money. Click below for a free assessment of what you have and where you'd like to go.
Originally published June 2016. Updated January 2019.