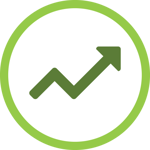 CASE STUDY:Digital Ads as Part of an Inbound Marketing Strategy Increases Software SQLs by 157% in 5 Months
Take it with you!
Complete the form below to download the case study or keep scrolling to read it now!
Do Ads Belong in an Inbound Marketing Program?
Inbound marketing is proven to produce leads. That's been proven over and over. But... in many cases, inbound marketing takes 3-6 months or more to get the results you set out to reach.
What do you do when your inbound marketing program can't create new leads at the pace required by management?
PPC Ads as Part of Inbound Marketing
An inbound marketing program wasn't creating new leads fast enough for a point of sale software company. They turned to the team at 30 Degrees North to increase Sales Qualified Leads (SQLs) by 3x within 4 months. With their inbound program in its early stages, we needed to find a way to produce results ASAP. Digital ads were created in a way that complemented their inbound marketing program to reach the goals.
This particular client is a $50 million POS solution company operating in a highly competitive space - the restaurant industry.
More specifically, they were looking for newer and more innovative opportunities to reach their target niche - pizza restaurants - in a more effective way.
Luckily, the team at 30 Degrees North had more than a few ideas regarding how to accomplish all of this and more. Our team, which included inbound marketing, advertising, and web design/development specialists, worked side by side with:
The software company's own internal four-person marketing team.
The software company's sales team that included Sales Development Representatives (SDRs), regional sales representatives and an inbound sales consultant.
Content writers.
SQLs are those potential customers who had proven themselves to be far enough along in the sales process to want a personalized demo. An SQL could also be a current customer who is interested in adding more products or services to their restaurants. There was a clearly defined HubSpot Score that indicated when a lead became an SQL.
Client Challenges:
Turning Insight Into Opportunity
To reach their sales goals, the POS software company needed more leads and more traffic to their website. Here is what we found: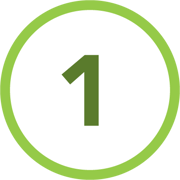 Their "Web Sessions to Lead Conversion" ratio was low.
This means there were many visitors coming to the site who did not become a lead. In August of 2019, their "Web Session to Lead Conversion" rate was at 0.69%, about 2% lower than we had expected to see. Based on our evaluation we realized there weren't a lot of opportunities for a visitor to convert to a lead - unless they were ready for the live demo, which is a pretty big commitment. There was also a contact us form, but that wasn't of interest to website visitors unless they wanted a demo. We needed to find a way to offer more opportunities for visitors to become a lead earlier in their POS software decision-making process.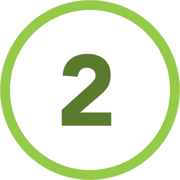 There weren't enough website visitors to convert to leads, even if we were at an optimized conversion rate. We needed to drive more traffic to the site. This can be done with inbound marketing and content development. But we needed the visitors now so that we had time to convert them to SQLs by the end of the four-month time period.
We Needed More Visitors to the Website Who Could Convert into Leads
Adding Digital Ads as Part of Inbound Marketing
At that point, 30 Degrees North quickly got to work increasing traffic to the client's website using the #1 tool for immediate traffic boosts: digital ads.
By January 2020, traffic had risen by 80% over the course of four months. HALF of that traffic was from the digital ads. We had not only increased traffic, we created ads that would nurture a visitor from their first visit until they became an SQL. This required standard PPC ads and remarketing on both Google and Facebook. This resulted in the digital ads producing the highest rate of SQLs among all marketing activities with 26% of digital ad leads qualifying to speak with a salesperson.
| | September 2019 Results | Improvements | January 2020 Results |
| --- | --- | --- | --- |
| Sessions | 15,000 sessions | 80% increase | 27,000 sessions |
| Sessions to leads conversion rate | 0.7% | 120% increase | 1.54% |
| Sales Qualified Leads (SQL)/mo | 70 | 157% increase | 180 |

More Than Ads Needed to Turn Leads into SQLs
30 Degrees North created the ads that targeted new visitors and previous visitors to the website. This brought in the traffic that was needed.
Inbound Google Ads. This means branding ads, content offer ads, demo ads and more - all created after determining where there were more searches, at which point we could properly allocate the budget according to demand.
Remarketing Ads. We used both Facebook and Google Display Ads, and targeted visitors who became a lead but who DIDN'T get to that ever-important SQL status in HubSpot.
But once they clicked on the ad, it was the inbound marketing program that kept them engaged and interested in the materials that were available to help them through the decision-making process.
A Website Overhaul. For the best possible ad performance, we knew we needed to have content on the website that matched the ad text - along with the appropriate call to action. We worked hard to make sure that our destination web pages matched as closely as possible to the visitor's search intent. Variations of landing pages were created to test and refine messages, images, and overall design. We also reduced the total number of fields on forms, thus creating a more streamlined experience and almost immediately improving the "Session to Lead Conversion" rate.
Inbound Marketing. Automated email workflows were used to nurture leads and emails sent out to leads and customers were constantly updated with new content and special offers.
Sales & Marketing Teams worked closely together
All throughout this process, the sales team was integrated into the inbound marketing process. SDRs were trained to watch for the scores and reach out when a lead would meet particular score thresholds, indicating they had a strong interest in talking to a salesperson.
Key Takeaways For Using Digital Ads as Part of Inbound Marketing
To get the ads to work so well as part of the inbound marketing program, we needed to follow these important guidelines:
First and foremost, do not separate your content writers from your strategists and your advertising team. Never forget that what is published on your website is directly tied to the ads' success. Everyone must be on the same page so that optimized content is created.


Focus narrowly on ad topics. Don't try to spread your budget too thin. Instead, find the area where there is A) enough demand, and B) you have the content to properly support the campaign. Add other areas of focus slowly but surely over the next several months.


Leave your ad budgets alone for at least six weeks before making decisions about moving money around to other areas. It takes that long to get an accurate read on what is working and, more importantly, what isn't.


Remember that your Facebook leads may take a little longer to convert to SQLs. Nurture them along with other ads to get them to SQLs.


Never forget to give your visitors a call-to-action when they're reading a piece of content. If you want someone to take your desired action, you need to make it as easy as possible for them to do so. More often than not, they will - and that's the most important benefit of all.