Earlier this year I was selected to attend a sales skills training program at HubSpot. It was a mind-melting experience with great information coming at us from HubSpot's best-of-the-best sales trainers – David Weinhaus and Dan Tyre. As I reflected on all that we learned I realized that closing sales boils down to something really basic. And it's not about our services or the technology we use. This was my aha moment.
David Weinhaus explained how to progress a consultative sales process in a way that, when done correctly, makes closing the sale a natural step in the relationship. Why?
1) First and foremost, because of trust. Doing it this way allows you to spend time learning about the prospect and their challenges. But above all, you'll be demonstrating that you really want to help. You can't fake it. And why would you want to?
2) In addition to being a trustworthy person, the consultative sales process allows you to prove that you understand the prospect's problems. By taking the time to do this your recommendations will be very applicable, providing a path to changing outcomes for their company (and quite often, personally).
David used the three-sale sale process as the basis of how to best approach a prospect.
1) Understand the problems and the consequences of not meeting goals.
This requires patience, lots of listening and careful questioning that gets you to the root of the problems as well as a good look at goals. By asking a lot of open-ended questions you will gain an understanding of where they're at now, and what problems they may be experiencing. You may even ask questions that haven't been asked in the same way ever before. This can be a little uncomfortable sometimes, but without this information it's hard to make a good recommendation for a solution.
2) Offer a solution to the problem based on their answers to your questions about the issues they face.
This doesn't have to be filled with tactics and product demos. But rather, start to formulate a plan that demonstrates how you can fill the gap that exists between what they have now and where they want to be.
3) Explain how you'll get to the results.
At this point your prospect has given you some good insight. You've offered up a solution that can potentially fix their problems. There are lots of people who can do what you do. But why would your prospect choose anyone other than you? Only if they don't trust that what you're recommending is the best path.
At this stage in the sales process you can get further into "how" you'll accomplish the things you've described as part of the solution. This process might include
Team introductions
More specifics on tactics and how they will bring the results that are needed. This will get you closer to knowing what you need to include in your pricing.
A demonstration of the the technology, if it makes sense for how you'll be solving problems.
At this point you could still walk away if you aren't getting signals that your prospect trusts you. If you don't have that, it's going to be very hard to get buy-in from the client in what you're doing or what you'd like to have done for them.


Establishing Trust Takes Some Time
Allowing time for the development trust can be a bit frustrating, especially in our world of instant gratification. But it's worth slowing down the process and breaking it into a few different steps.
By the time you've gone through all three steps of the three-sale sale you have demonstrated an understanding of their needs and offered a solution that will fill the gap. All of this will done by working with people they know and like (you and your team!). Asking for their business at this point should feel natural and logical for both parties.
Uncovering Urgency
Change is hard. And that's why sometimes people drag their feet when it comes time to get started. If you have trouble getting them to pull the trigger, go back to the consequences of not starting right away. What is the alternative to not meeting goals? That's typically enough to get someone moving into action to make the necessary changes. And if it's not, this is a potential client that may not place value on what you do.
The Biggest Benefits of Sales Training with HubSpot
For me, selling has always been a little tough. Which is funny since I'm one of our primary sales people at 30 Degrees North. But as I look back, those who trust me and our agency's ability to help them are our most successful clients with the longest lasting relationships.
Going through this training and putting a formal process around something that I have already experienced in action has given me a great sense of relief. It solved the concerns I had about a prospect not liking me because I'm trying to sell to them. While I'm technically working on a sale... at the heart of it is this person and their organization's best interests. Why wouldn't we take the next step into executing the plans together?
If you'd like to learn more about the three-sale sale, or how to make the sales and marketing team work more closely together to meet your goals, please let us know.

You may also be interested in learning more about selling using an educational approach in this blog: How to Increase Sales by Teaching not Promoting.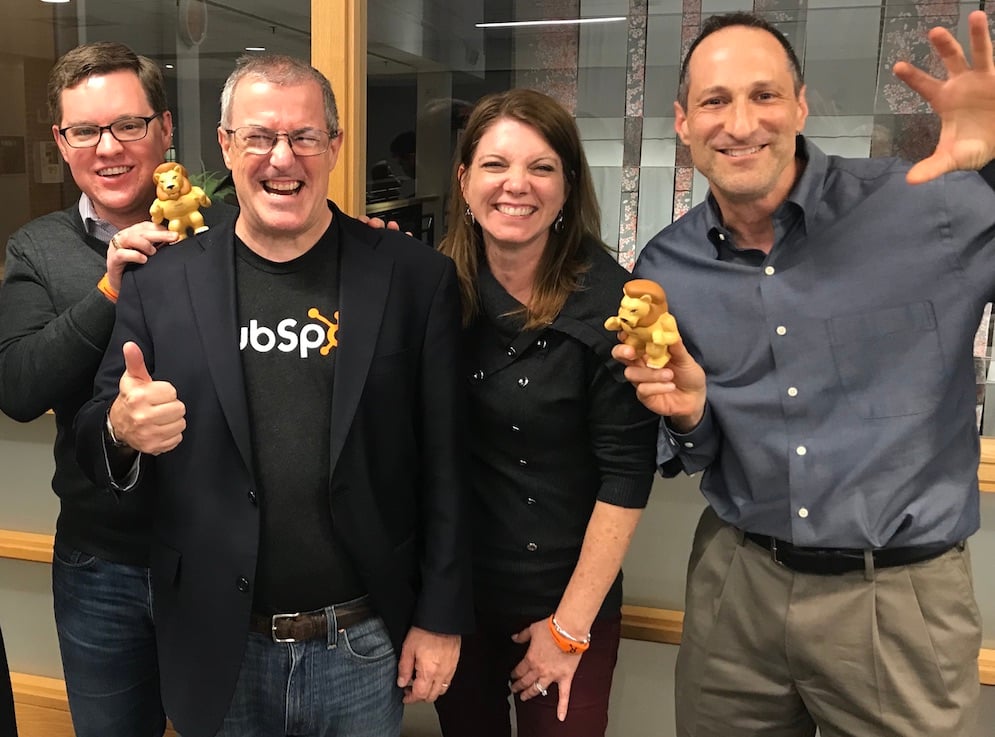 Check out me and Mark as we graduated from the first part of HubSpot's Sales Bootcamp with Dan Tyre (in the HubSpot shirt) and David Weinhaus (far right). LIONS, baby!