We meet with a lot of oncology practices from all over the country and we have been asked on numerous occasions, "Why would I need marketing for my referral-based practice? I don't need a website to get new patients because I get my patients from referrals." And we understand why they're asking the question, but there are several valid reasons that you should be sure you have a great looking and informative website for your medical practice.
The most obvious place people look to find answers about a doctor or other medical service is the web. Online searches are in the palm of our hands all day long. What does your practice website say about your professionalism? Who are you trying to communicate with? Do you give visitors what they're looking for?
Let's tackle these one by one:
Professionalism Matters
Whether you realize it or not, people are searching online for the doctors they've been referred to. They're going to see reviews, maps and your website where you probably have physician profiles and practice information. Or at least you should. And that information should be available in a way that's easy to access and understand. It literally takes 3 seconds or less for a potential patient to make a decision about your practice based on what they see online. That's not much! And you have even less time if your site is slow to load.
Some people will continue to make the appointment no matter what the website looks like because their doctor highly recommends you. But don't start behind the eight ball. Present an online presence that will not create a glimmer of doubt in that potential patient's mind and especially not in the minds of their family members who are often younger, web-savvy and extremely influential in the medical decisions of their parents or loved ones.
This is your online office representative that speaks for you 24-7. Make sure that the message is one that reflects the high quality of work that you provide.
It's also important that your site is easy to view on a phone. We've found some medical practice websites are seeing over half of their traffic coming through phone browsers! Be sure your site meets Google's mobile friendly requirements so that you're sure to appear in the search results on phones as well as desktops. In the photo below, the image at the left does not meet Google's mobile friendly website design requirement. It's simply the website shrunk down in its entirety. The image at the right shows how the site can respond to the size of the screen and present content in way that's easy to read and scroll through.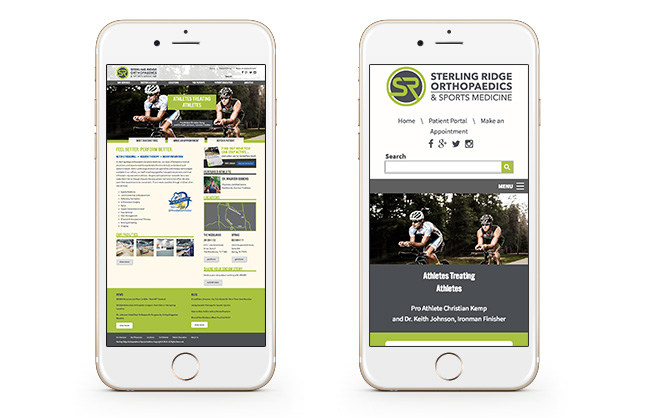 Who Are you Trying to Communicate With?
Specialty physicians, like oncologists, know they're going to get patients from their reliable referral sources. But how do you plan to grow the practice if you don't grow your referral base? Plus, relying on others' medical practices for your own business is a risky endeavor. You can use your website as a tool to communicate with:
Potential patients
Potential new referral sources
Current patients
Current referral sources
It can also be used to show payors how you're different when negotiating contracts as well as the community in general. When you make the evening news or you're mentioned in a Facebook post, you want to be sure that what the visitors see is a good representation of who you are and how you want to be known in the community.
Did you give visitors what they're looking for?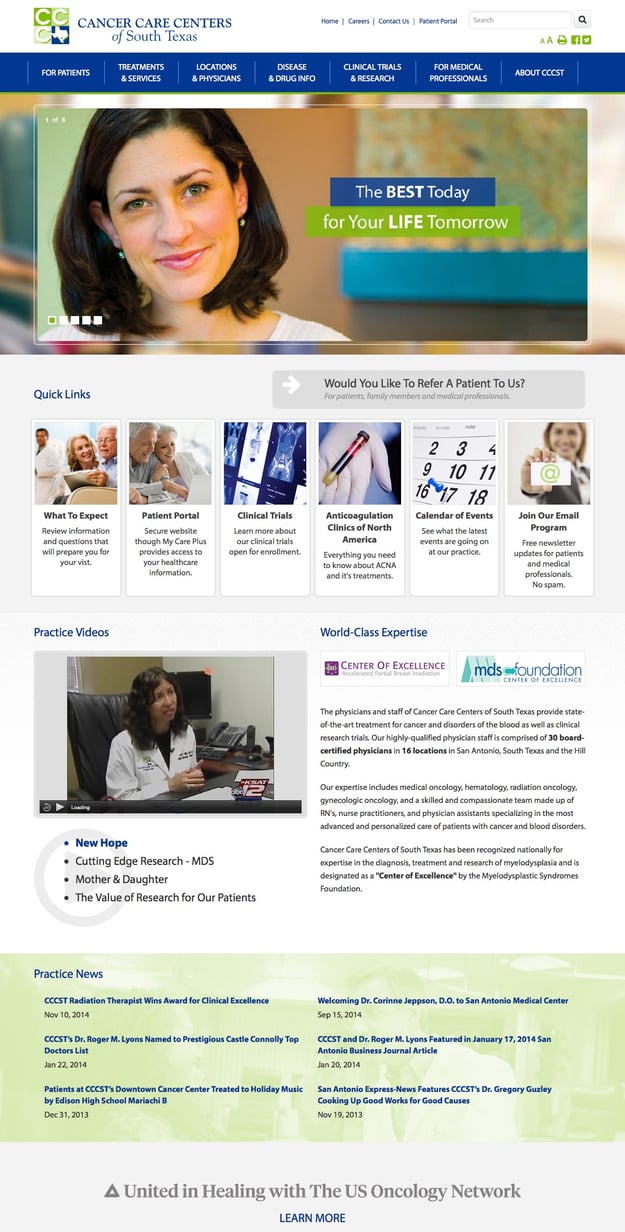 Above is an example of a website that provides information for patients, potential patients and referring physicians -- new or old. It's clear that:
If the visitor is a medical professional, there's a section with information they may be specifically seeking including how to refer a patient, and how you work with primary care doctors so that they don't feel like they're losing a patient when they refer to your medical practice.


If the visitor is a current patient, there are sections that apply specifically to what they are most likely seeking, decreasing the influx of questions that come to the front desk of the office locations.


If it's a potential patient or their family on the site, they can see the various programs, services, publications and videos that describe the practice's capabilities and overall personality.
All of these visitors (which can be in range of thousands per month depending on the size of the market you service) are getting an impression of your practice when they go to your website. Is that impression the right one?
Grow Your Referral Sources
Once you've got the look consistent with the brand for your practice and your website is up and running, it's time to take the next step and get it to work for you. It's proven that doctors research online to find answers for their patients. Use your website to communicate the practice's expertise in oncology (or whatever your specialty may be) by authoring a physician blog. By writing blogs regularly (or getting help to blog on a regular basis), you'll be able to share insight and education that can help another physician answer questions and/or refer patients to you. You can even offer white papers or other special pieces of content that other medical professionals would be interested in accessing. It's one way you can stand out from the others in your area when you don't know the referral source personally.
For more information on how to grow your referral base using your website, download our free eBook.